"After-school restraint collapse" is a real phenomenon -- here's how you can help your kids manage it.
What can God do in your life with one Bible verse a day?
Subscribe to Aleteia's new service and bring Scripture into your morning:
Just one verse each day.
Click to bring God's word to your inbox
When my kids get home from school, they all do very different things. My 12-year-old starts talking at light-speed about everything that happened to her that day while rummaging through the pantry. My 9-year-old gets a snack and then either starts her homework or starts complaining about something being unfair. My 8-year-old goes straight to his room, shuts the door, and plays with his Pokémon figures for a solid half-hour. And my 5-year-old has a complete meltdown on the kitchen floor.
It's the same thing, every day, like clockwork. Four kids in four different emotional states trying to unwind from a long day of schoolwork, schedules, and learning, all while I'm trying to get homework rolling and dinner prepared. Inevitably, someone starts crying (someone other than the already-crying 5-year-old, that is) and on really bad days, that someone is me.
Turns out this is an extremely common experience for school-aged kids–so common that it has it's own name, according to Motherly: after-school restraint collapse:
"Children experience this in various ways. Some children have a complete meltdown that involves temper tantrums [or] refusal of parent directions while others just withdraw or are quiet for awhile after school," says Stacy Haynes, CEO and counseling psychologist at Little Hands Family Services… How you can help ease the after-school transition At the end of the school day, most of us parents are eager to ask all about the day. But that may be the last thing a child needs for a while, says Haynes. "Give children time to get a snack [and] relax their minds," she explains. "Offer your child a physical activity directly after school, sports, yoga or walking are great releases that help to balance the mind and body." Homework can also wait and will probably be done better as a result of a brain break.
Like me, my 12-year-old processes things by talking them over (sometimes incessantly), so she's already found her way to unwind. I've never actually tried letting her talk until she's done, but instead tend to cut her off almost immediately in order to redirect her. Although it'll be a struggle for me is to listen patiently instead of trying to redirect her to homework, if letting her talk is the best way to give her brain a break so she can refocus on homework, it's a struggle worth having. 
My 8-year-old has always processed things by playing alone, since he was a toddler. I've long recognized this fact and rarely interfere with his after-school ritual. But my 9-year-old and 5-year-old have been a mystery to me. Why the complaining? Why the tears and tantrums?
I get it now. After all, I need some time to unwind after a long work day as well — sometimes I do this by reading, sometimes by working out, but what I never do is go immediately from a long day of work to even more work. My brain is usually fried and I know that if I try and work like that, it'll take me twice as long to accomplish half as much.
If I come back to it after a solid break, however, I'm almost always refreshed enough to get those last few things done before bed. It makes sense that my kids feel the exact same way.
The trick will be to figure out what kind of break helps them unwind. I know it won't be solitary play — they're not exactly solitary-play children. And it won't be endless talking … in fact, my 9-year-old often works herself up into even more of a tizzy by talking about things.
But like me, they both relish activity. I'm betting that giving them a snack and a half-hour to swim or play outside will be exactly what we need to mix the meltdowns and get them in the right frame of mind to tackle homework before bed. Bonus — if I play with them, I might get the same benefit.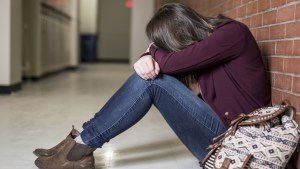 Read more:
How to help your kids handle the new world of back-to-school stress