'Operation Finale,' staring Ben Kingsley as Nazi leader Adolf Eichmann, explores the nature of evil.
What can God do in your life with one Bible verse a day?
Subscribe to Aleteia's new service and bring Scripture into your morning:
Just one verse each day.
Click to bring God's word to your inbox
Operation Finale, newly released this week, chronicles how a squad of Israeli agents in 1960 tracked down and captured Adolf Eichmann, the architect of the Holocaust and the most notorious Nazi leader then still on the loose.
The movie's cloak-and-dagger elements are effective and, at times, thrilling. But I found myself most interested in what happened after he was caught.
The Israelis keep Eichmann in a safehouse in Buenos Aires for nine days. Apparently (the movie tells us) the folks handling their flight out of town needed proof that Eichmann (Ben Kingsley) goes to stand trial on his own free will (never mind the kidnapping). He needs to sign a release form which, Eichmann knows, doubles as his own execution order.
And so begins a battle of wills that, I think, says a lot about evil — and how we, in turn, should respond to it.
The squishy nature of evil
In Kingsley's effecting portrayal of the Nazi, Eichmann's evil feels inconsistent, wriggling away from easy definition.
Yes, there are times when that evil feels unmasked. In those moments, we see a more malicious rage festering inside: Indifference. Hatred of the Jewish people. A strange desire to inflict pain.
But in Kingsley's telling (and what we saw from the real Eichmann as he stood trial in Israel), those moments are exceptions. Often, he claims to be a simple bureaucrat following orders — a pencil-pusher, laboring at his desk like any harried white-collar worker might. He actually helped many Jews escape, he tells Peter Malkin (played by Oscar Isaac), a primary Israeli spy who captures and holds Eichmann. He was not fully aware of the horrors he signed into being. It was this Eichmann that the world saw in the early 1960s, when he was on trial — the Eichmann who inspired the phrase, "the banality of evil."
Eichmann talks to Malkin about how we're all animals, and by inference suggesting that morality itself is an artificial construct. In one scene, he echoes another figure from history who could also embody evil's banality: Pontius Pilate.
"What is truth?" he asks Malkin. "Whose truth?"
And as I watched, it felt as though Malkin was debating with the many faces of evil itself, and confronting, I think, one of its most insidious aspects: How, in the moment, evil might not look, or sound, or seem very evil at all. How we sometimes excuse the evils in our midst. And when we can't excuse them, we try to hide them.
I was just following orders, Eichmann says. I am so misunderstood, Eichmann says. What is truth? Eichmann says.
In Kingsley's hands, Eichmann can feel, at times, almost likable.
We live in an evil age. No secret there, and really, all ages in this fallen world of ours are evil ages. But today, the nature of evil feels more indistinct somehow. More relative. We see people who we might agree with politically or socially or even spiritually do horrible things, or try to excuse or hide the horrible deeds of others. Part of us wants to excuse or hide them, too. Our news feeds and Facebook pages are filled with shrill, combative rhetoric, bolstered often by "fake news" and questionable facts.
What is truth? It's harder to know that now than ever.
Except … not really. As Christians, we know where truth lies. And we know where justice does, too.
Truth and grace
As Malkin and Eichmann talk and the threat of exposure grows, the pressure to just kill Eichmann grows, too. And frankly, some on Malkin's squad don't need even that excuse. One of the operatives, Moshe, believes the whole operation is a waste of time. He wants to kill Eichmann now.
It's understandable. All of them know he deserves it. Each one of them lost family members in the Holocaust. Some lost their whole families.
Peter Malkin's no exception. One night as Eichmann sleeps, Malkin walks into his room and nearly grabs him by the throat, wanting to squeeze the life out of the old man.
But he doesn't. As evil as Eichmann may be, and as much as he may deserve to die, Malkin sets aside his own desire for vengeance and takes a different tack. He tries to gain his trust — and perhaps force Eichmann to face the humanity of the race he tried to extinguish. But mostly, Malkin just wants to get Eichmann to trial. To give the Nazi what the Nazi denied millions upon millions: The chance to defend himself.
It's interesting how many times the Bible invokes images of judicial process. We are ourselves on trial in some passages. God, naturally, is the judge — our ultimate source and, thus, ultimate definer, of good. Satan serves as the prosecuting attorney: His very name means "accuser." Jesus is our defense advocate in 1 John 2:1, with the author telling us that he speaks to the Father in our defense.
Jesus' covering grace helps us in this time of literal trial. But that doesn't mean that we aren't judged. Like Eichmann, we must face justice, even as Jesus' intercession saves us from our deserved fate.
In Operation Finale, Malkin serves as an intercessor himself — defending Eichmann from those who'd like to kill him immediately. He curbs his own urge to exact vengeance and follows a higher, holier law — not because he wants to, but because he knows it's the right thing to do.
Operation Finale has its flaws, and a couple of moments may make Christians uncomfortable. For instance, one Argentinian priest shouts (with a roomful of chanting others) that Argentinian Jews should be turned into "soap."
But that said, the movie points to two important elements that all Christians should embrace: That truth can and will triumph over the lies that evil tells; and that justice should triumph over vengeance. And that, in itself, is a worthy message.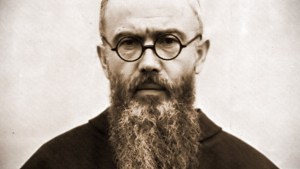 Read more:
5 Courageous saints who were sent to Nazi concentration camps