Something all parents should watch as your kids start a brand new school year ...
As we go about our lives, let's try not to be so distracted that we fail to see those around us who are crying out for help. This video from Sandy Hook Promise, a non-profit organization committed to ending gun violence, is a real eye-opener in this regard. The video, created by BBDO New York, is clever at making us all aware of something that we're probably all doing, and failing to realize the consequences to us and others when we do.
Cryptic enough for you? Watch the video and see if you spot the trick:
Of course, the horrible and beautiful brilliance of this ad is that it shocks viewers in the best way possible. Even when you know you're supposed to be on the lookout for something, it's still so easy to get lost in the everyday — in the routines of high school, in the charm of an adolescent love story. You can easily get wrapped up in the story you want to see. In only noticing the "stars" of the show — the beautiful, interesting people — we miss the outliers, the ones crying out for help. The ones being bullied at the lockers, or worse.
MORE TO READ: The new Sandy Hook school: a 'gentle fortress'
Their resulting message serves as an essential reminder not just for school age kids (though sharing this video with a teen is a good idea), but adults, too. To learn more about how to spot warning signs of depression or violence in others, visit sandyhookpromise.org.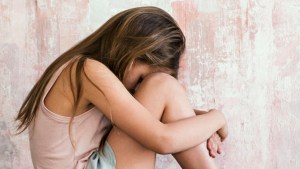 Read more:
A brilliant and gentle strategy to combat bullying