Brides continue to draw inspiration from this unusual wedding decision the queen made in 1840.
Queen Victoria is best known for the prosperity of Britain at the time of her reign, her passion for the arts and sciences, and the beautiful love story she shared with her husband, Prince Albert of Saxe-Coburg-Gotha. But few people know that she started the tradition of the white wedding dress.
It was the year 1840. Twenty-year-old Queen Victoria was preparing to marry her cousin Albert. At the time, brides wore colored dresses, most often red ones, and then reused them for other big occasions.
The royal wedding of Queen Victoria and Prince Albert was held on Sunday, February 10, 1840. At 11:45 a.m., the fiancé's procession left Buckingham Palace for St. James Palace. Around noon, the young woman left for the Royal Chapel with her mother, the Duchess of Kent, and the Duchess of Sutherland, mistress of the royal wardrobe.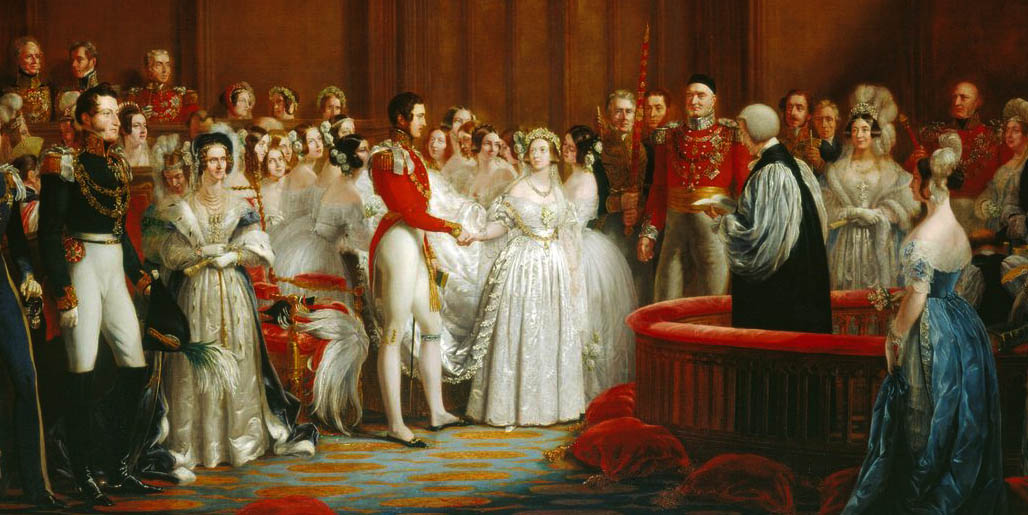 Refinement and subtlety
But, to everyone's surprise, Victoria wore a beautiful white satin dress from Spitalfields, a London neighborhood famous for its high-end silk. It was covered with beautiful laces from Honiton, a village in Devon, known since the Renaissance for its crafts. The long dress, fitted at the waist, was very flared, with a train and bare shoulders. It opened the way for voluminous dresses with a large number of accessories.
While the young woman wore a diamond necklace and earrings, she also wore a simple crown of roses and orange blossoms, interspersed with a sprig of myrtle, according to the old German tradition.
At the entrance to the Queen's Chapel, the marveling crowd cheered the sublime dress whose color was so surprising for the occasion. The bride would thus launch the fashion of the white wedding dress … which is still going strong today!
White to highlight the beauty of the lace
Even more surprising, the white color was not chosen at all as a symbol of purity (this meaning was given to it afterwards) but simply because the white satin highlighted the beauty of the famous lace.
This use of white for weddings would then take on another meaning. Little by little, white began to distinguish a religious marriage from a civil marriage, thus announcing the separation of church and state. With the secularization of the institution of marriage, the white wedding dress would become the symbol of virginity and purity.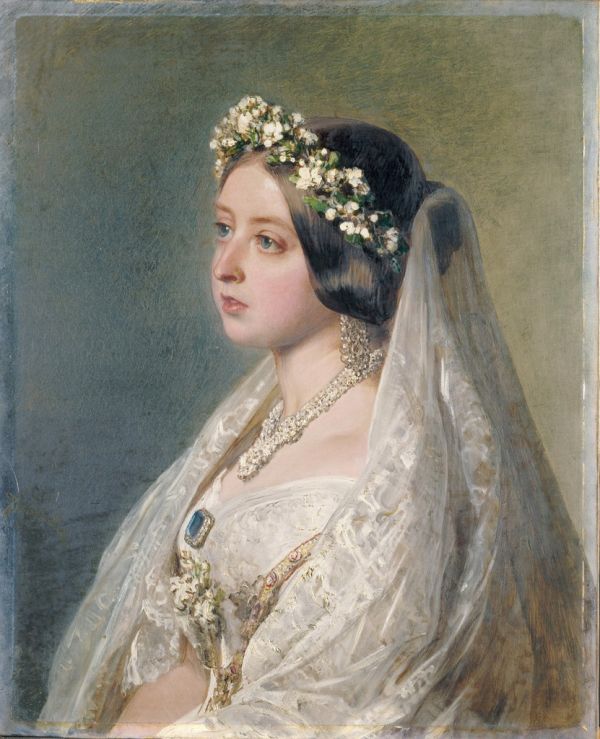 Even though photography did not yet exist at the time of Queen Victoria's wedding, several paintings published in the newspapers depicted the royal dress marvelously well. Thus, throughout the whole of Europe, just as with today's celebrities, young women from middle-class families wanted to copy the queen's style. For her part, Queen Victoria would continue to wear everyday outfits in the same spirit as her wedding dress.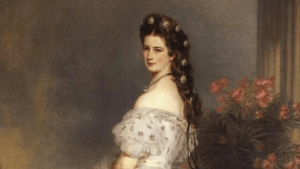 Read more:
14 Remarkable wedding dresses throughout history