With these strategies and websites, you'll "want" to get your kids a smartphone (almost).
Being connected has become this decade's new necessity. It's impossible not to remember those days when research was done in the library, teamwork happened at a friend's house, and notes were taken exclusively in a notebook, and not feel a little bit nostalgic. However, the fact is that all that has changed, and it has changed very fast, so keeping up with today's technological needs can be overwhelming, and sometimes even scary.
Being online is part of our everyday life, and that includes kids' lives. Online platforms for doing homework, for entertainment, and even for having a social life are growing exponentially, and it's not a matter of how to forbid them from going online, but how to make their experience safe. Surfing the web is not something that should be taken lightly — it has to be done with as many precautions as going out to the street alone. You wouldn't let your kids just wander around the city by themselves, right? The same happens in the cyber world.
Statistically, kids are going online at a younger age all the time, and sometimes parents can't monitor everything they do. In 2016, 45 percent of kids got a mobile service plan at 10-12 years old. Between ages 6-12, most kids get their own data and service plan at age 10 (22 percent), followed by 8 years old (16 percent), and ages 9 and 11, which were tied at 15 percent. The same report also found out kid's most common mobile activities: 81 percent use their phones for text messaging, 59 percent for downloading apps, and 53 percent for playing preinstalled games and for accessing websites.
So, in this hyper connected era, what can a parent do? You certainly can't be stationed over your kids' shoulders at all times — as the common chat acronym/code word POS (parent over the shoulder) suggests. But you can do two things: 1. Be informed so you can have safety chats and safety rules, and 2. Encourage your kids to use some of the kids safe platforms that are available.
Safety basics
Keeping your family safe online is all about communication, information, and discretion.
Be transparent. Rules should come with a reason, so be clear with your kids about the dangers they may encounter online, and how to tell you in case that happens.
Teach them. Surf the internet with them. That way you can show them how to choose the right webpages, and introduce safety tips as you go through different pages. While doing so, discuss which kinds of sites are appropriate for their age, and why.
Password rules. Create passwords with your kids, so you can have the codes in case you need them, and to teach them how to make them safe, and not to share their passwords with anyone. Show them how to log out every time, so they won't leave open sessions at school, or at a friend's house.
Do not ignore age restrictions. Some online games may not be appropriate for kids, even if they have cartoons in them, or look kid friendly. Always read the minimum age and respect it. Just as you wouldn't take your kid to a movie that's not age appropriate, you shouldn't let them play games that aren't meant for their age.
Check out the privacy settings. Sites meant for content sharing have privacy settings you can customize to decide what content can be shared and to whom. Make sure your kids' profiles are as private as possible.
Talk about cyberbullying. There's a lot of harm that can be done through texts, videos, and pictures. Talk about the do's and don'ts while talking to people online, and help them see when should they come to you in case they are facing bullying.
Keep information to yourself. Make a list of data that shouldn't be shared online, such as home address, phone number, ID numbers, or even an accurate schedule of your day.
No strangers. Have you ever told your kids not to talk to strangers? Well, they shouldn't chat either, and if they do, they shouldn't give personal information.
Set content filters. Through the settings of your browser it's possible to install content filters that can help prevent harmful content to show up; plus it'll help your kid know which content is approved, and which isn't.
Make it public. Keep computers in public areas in the house, instead of leaving them inside the kids' rooms.
Kid-friendly sites
More often new platforms arise with one objective: becoming safe ground – or cloud – for kids. Sites open to the masses, specially search engines and social media, are full of information and users that are not appropriate for children. Whether they stumble upon content that might put their integrity and innocence in danger, or they get in contact with cyber bullies or online criminals, using this kind of sites can be risky. Therefore, it's much better to look up for those created specifically for the youngest internet users.
Kidy – This search engine is aimed for children, so all the content they find here is only related to kid friendly webpages. Encouraging kids to think, play and learn is their philosophy, so it automatically blocks all content that could harm them, and places educational websites instead. To do so it uses artificial intelligence that's constantly learning from the searches to provide better results. Key words, news and videos go through several security filters to make sure the content shown is age appropriate. The first filter blocks everything related to pornography, drugs, violence and explicit contents; the second filter will define whether the result is age appropriate; and the third filter will organize information, prioritizing those sites that encourage learning.
Facebook Messenger Kids – This new Facebook tool allows kids to chat and have video calls in a safer way. Instead of having their own personal Facebook accounts, youngsters can now use their parent's account and have their own contacts to exchange messages through their tablet or smartphone. The child's account is linked to the parent's, so all contacts have to be approved by the parent. Another important feature is that messages don't disappear, so parents can check them in case they want to. It's important to highlight that contacts aren't mixed. The contacts in the original Facebook account aren't shown to the kid; they have their own contact list of family and friends.
Additionally, this app includes many assets that make video chatting and messaging more fun, including filters, masks, emojis, and sound effects that are extremely appealing for the youngest users.
GromSocial – The word "grom" in Australia refers to young surfers, and that's just the objective behind this social media. Conceived by a young boy – only 11 years old — who with his father developed a social network for kids that could help them get in touch with the online world and get ready for larger social media platforms in the future. Their goal is to promote good digital citizenship and positive social interaction in a cyber space safe for youngsters, free from inappropriate content and bullying. To do so, they have a team of "Grom Helpers" monitoring the site 24/7. These helpers not only eliminate improper content, but they may get in touch with the users and be someone they can talk to in case they need it. As an additional tool, the site includes a Parent Portal where parents can monitor and control their child's activity, including privacy settings, chat histories, and contacts list.
Kiddle – This is another search engine that aims to protect children from finding unsuitable content. Its results are filtered in order to block explicit or deceptive content, and are presented in order of relevance for the young audience interests. The firsts results shown are from sites written specifically for kids; these sites have been checked by Kiddle editors. The next four results are trusted sites that, even though are not created specifically for children, have safe content, and are easy to understand. The rest of the results shown are trustworthy sites that provide expert information, and don't have explicit content. One of its perks is its design, with big thumbnails and typography that create a friendlier search experience.
Lego Life – The famous brand has decided to join the online community with their own social media platform for a boys and girls under 13 years old. All content — text, video, and pictures — is developed for kids. The way it works is very similar to any other social media platform, with users posting content, and receiving likes and comments, watching, videos, reading news, finding other Lego creations from fans, and taking part in Lego challenges. One of their most important features is that users cannot post real pictures, so all profiles have a Lego avatar instead. Another of its safety features is that no real names are shown; even if the user writes their own name, the platform will change it, mixing letters, and turning it into something fun. In addition, all user comments are moderated, and direct chatting is prohibited.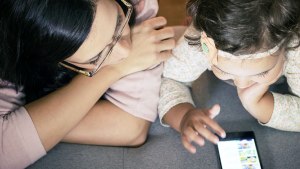 Read more:
Why I'm changing my mind and getting my daughter a smartphone