Christ's call is to die ... but also to live ... with Him.
What can God do in your life with one Bible verse a day?
Subscribe to Aleteia's new service and bring Scripture into your morning:
Just one verse each day.
Click to bring God's word to your inbox
Perhaps you have heard some variation of this joke: "Why do Christians have such a hard time falling asleep? Because they lie awake worrying that someone, somewhere, might be having a good time."
At times or in some circles, that's a common caricature of Christians—cheerless, joyless, heartless drones who want to make sure that everyone else is as miserable as they are. Christians, so the story goes, who have contempt for sex, food, drink, and play, who crave sorrow, misery and suffering, want to save the world from pleasure and preserve the world for pain. That's a common narrative—but is it true?
Perhaps the only thing worse than an outright lie is a half-truth. It's true that Christianity extols martyrdom, sacrifice, and discipline. What's so often overlooked is that Christianity at the same time extols joy, life and the human body. To assert the cross of Christ without the resurrection of Christ is a cruel distortion of the Gospel. Such a distortion deprives people of hope and peace.
The proclamation of the resurrection of Christ without the cross is also a cruel distortion of the Gospel—perhaps a worse one—because it speaks of promise without speaking of price. It offers what Bonhoeffer called cheap grace: "Cheap grace is the preaching of forgiveness without requiring repentance, baptism without church discipline, Communion without confession, absolution without personal confession. Cheap grace is grace without discipleship, grace without the cross, grace without Jesus Christ, living and incarnate."
In this series on Christian self-mastery (Part One HERE; Part Two HERE), we need to hold together apparently contradictory elements: Christ calling us to life and Christ calling us to death. Life: "I am come that they may have life, and may have it more abundantly." (John 10:10) Death: "Unless a grain of wheat falls to the ground and dies, it remains just a grain of wheat …" (John 12:24) By the discipline of self-mastery, the disciple follows the Lord in freedom from the passing of pleasure and the finality of death. By that same discipline, the disciple is freed for the delight of eternity and the triumph of everlasting life. How then, shall we live?
St. Thomas Aquinas taught: "The things that we love tell us what we are." He knew that we become like what we love. If we embrace, set our hearts upon, and live for what passes and fails to satisfy, then we'll become like what we've loved—corruptible and disappointing. If instead we orient the appetites of the body and the powers of the soul upon what the divine wisdom offers, then we'll become like what we love—eternal light and life. The true disciple of Christ, seeing that creation is good—including what's delightful to the senses and soul in this life—wisely and with grace chooses to sacrifice the good for what's better.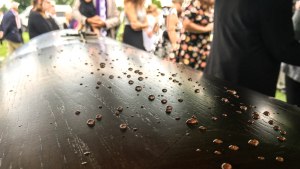 Read more:
On dying to give new life, and being scared to death of it
The challenge for all Christian disciples is summarized by Basil W. Maturin in his, "Christian Self-Mastery":
We must, then, in our practical life constantly bring together these two principles of life and death. Death must ever suggest—if I may say so, bring with it—some new experience of life; and life must always have upon it the shadow of the tomb, or, better still, the light that shines upon it from the other side. Death is not all darkness, nor life all light. The light of life illuminates and warms the pallor of death. The daily dying is robbed of the chill coldness of the tomb, for in the agony of death, the heart seems only to grow warmer and more human. Life is freed from the noise and bluster that so vulgarize it and gains something of the reverence and restraint of the chamber of death.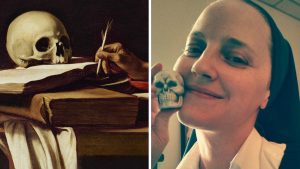 Read more:
Memento Mori: How a skull on your desk will change your life
The goal of self-mastery, of a truly Christian self-discipline, isn't to refrain from the enjoyable because it's enjoyable, but, rather, to live so as not to settle for what's merely enjoyable. At the same time, Christian self-mastery gives the disciple the clarity of vision and strength of character so as not collapse under the weight of threats, or the burden of disappointments, or the corrosion of discouragement. Christian self-mastery also helps to protect the disciple from the seductions of illusion, distraction, and addiction that the world offers us both constantly and insistently.
Rather than stifling a Christian's capacity for love and delight, self-mastery is a means for expanding and securing the human body and soul for pleasure, love and peace. Christian discipline, properly understood, is truly a matter of life-and-death. It can help us pass through this life and death safely into an eternal life beyond death. It's time to proclaim this saving truth to the world.
When I write next, I will discuss the challenge of maintaining faith, hope and charity in times of crisis. Until then, let's keep each other in prayer.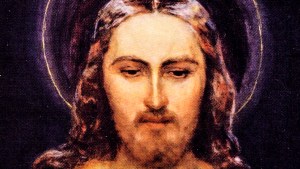 Read more:
Praying this litany will give you peace about the past and future