The answer is quite simple, but often not easy ...
What can God do in your life with one Bible verse a day?
Subscribe to Aleteia's new service and bring Scripture into your morning:
Just one verse each day.
Click to bring God's word to your inbox
Just a few weeks ago, I attended a parent information night for my 3rd and 4th graders. In the 4th grade class, they talked a lot about responsibility and how they are trying to teach the kids to be responsible because in 5th grade, responsibility is expected. One of the things the teachers mentioned is that 4th graders should be responsible for their own homework — either remembering to do it, or failing to remember.
I thought this was the best ever, because if there is one thing I hate, it's going through planners and homework assignments for 4 kids to make sure they've gotten every last question completed. It was a no-brainer for me to embrace the idea of letting them figure that one out.
But less than a week later, my 4th grader forgot her binder at school. The binder is kind of the linchpin for 4th graders — it includes all their assignments, their planner, any homework they have, notes to bring home — it's basically the HQ of 4th grade life. She begged me to take her back to get it, because without it she couldn't complete her homework or get her planner signed. And I totally relented, because I am constantly forgetting vitally important things. I empathized with her, so instead of letting this be a learning experience, I fixed it for her.
Lo and behold, three days later she forgot it again. This time I had a twinge of doubt before I took her back to get it, but she got hysterical when I hesitated. "You have to take me back! If my planner doesn't get signed my teacher will be so mad at me! I can't go to school without it signed!"
I said, "Charlotte, your teacher will not be that mad. Don't be silly. I'll take you to get it but you need to calm down."
That weekend, I read this post at Motherly on raising overcomers. I was nodding my head to most of it, totally with the author, until I read this part and felt my conscience prickle uncomfortably.
Watching our children deal with hard things give us the opportunity to teach them how to respond well. Recently my daughter took two weeks of group swimming lessons — something that was new to her. Although she was scared, she made it through the first week quite well. She conquered some fears and by the end of the week she was having all kinds of fun. However, after a long weekend she began to fear swimming lessons again and didn't want to return for the second week. Through tears she told me how much she hated swimming. And I quickly understood this wasn't really about swimming anymore. She was being seized by fear. She loved swimming just a few days earlier and now she was believing a lie, believing her fears. One thing I'm learning is that no matter how irrational, improbable, or ridiculous it may seem to someone else, fear is real. We all fear different things, but when you are in the midst of it, it becomes your reality. Minimizing someone else's fear is not helpful.
Double whammy Mom guilt. First, I had failed to equip Charlotte to learn how to face hard things by fixing it for her, instead of making her go to school with the planner unsigned. Second, I had minimized her fear that her teacher would be made because it seemed silly to me. Disappointed? Sure. But not mad.
The thing is, to a 9-year-old disappointment is an acute emotion. When it's directed their way, it often feels like anger … or worse than anger. Her fear of disappointing her teacher was very real, and valid.
Lucky for me, I got a second chance. Shockingly, Charlotte forgot her planner again the very next week. This time, I was prepared. I told her I would not take her back to get it, acknowledged that her teacher would be disappointed and it would be hard to face that, and talked through some things she could say to her teacher to express her regret and determination not to forget it again. Then we came up with some strategies for remembering the planner.
It's only been two weeks since then, but she's remembered her planner every single day. And as hard as it was to make her face her fear that day, it was the best gift I could have given her, because it taught her that she could do hard things. And that's a lesson I definitely want her to learn sooner rather than later.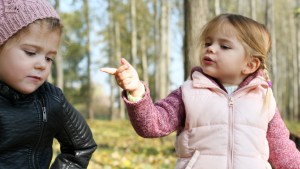 Read more:
Why you shouldn't force your kids to apologize