Does the Church think it's better to die than be a victim of rape?
Years ago when teaching religion, I found myself telling my class the story of Maria Goretti. As a child, I loved looking at the beautiful pictures of St. Maria on prayer cards and hearing how kids can be saints, too. But when I tried to share this love with my high school class, the ending fell flat.
"… and she refused to let Alessandro rape her to preserve her purity and that is why she … is … a … saint."
The words felt wrong as I said them, and I could see the skepticism on a few students' faces. How could a young girl's spiritual purity be taken from her by force? Was the Church suggesting that it is better to die than to be raped? Is virginity a greater good than life?
These questions have reappeared in the Catholic blogosphere with few good responses. More recently the debate was rekindled by the September 1 beatification in Slovakia of Anna Kolesarova.
Anna Kolesarova lived a devout life in former Czechoslovakia during the Second World War. When she was young her mother died and Anna took over the household duties, cooking and cleaning for her father and brother. The family often attended daily Mass at a nearby parish.
In November of 1944, Anna's hometown was being liberated from Nazi rule by the Russian Red Army. The Russian soldiers were violent, and many townspeople hid themselves from them. Despite the danger, Anna attended daily Mass and received Communion before joining her father and brother in hiding in their cellar. On November 22, a Russian soldier entered her home and demanded food be prepared for him. Anna's father called her up out of the cellar to cook for the soldier. In an attempt to hide her youth, Anna was dressed in an old black dress of her mother's, but as she cooked the soldier realized she was only a teenager. After eating, he grabbed Anna, held a gun to her, and demanded she submit to sex with him. Anna broke away from him and ran toward her father, saying "Goodbye, father! Jesus, Mary, Joseph!" before the soldier shot her, twice.
The parish priest suspected heroic virtue, and accordingly investigated and recorded the events surrounding her life and death. Though Catholicism was suppressed under Communist rule, with the Slovak Republic came a renewed interest in Anna's story. Her grave became a site of pilgrimage and her death inspired a Slovak youth organization dedicated to a culture of purity.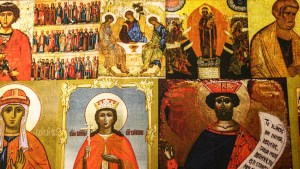 Read more:
How do you become a saint (capital S) anyway?
It is heartening to see how Anna's courage and dedication to her faith is renewing Catholic culture in a former Communist country. Her life is certainly a model of devotion for young people. But how are we to interpret the proclamation that she will be beatified as a martyr "in defensum castitatis" ("in defense of chastity")?
To be declared a martyr, someone must either die for the faith directly, or die in defense of a Christian virtue. The soldier did not shoot Anna for her belief in Christ.
But the virtue of chastity does not require that a person choose death over rape. The Church does not value virginity over life. So why would Anna's choice be celebrated by the Church as a model of chastity?
The answer is that Anna's death was a reflection of her life. Living virtuously developed in Anna the "habit of excellence" that Aristotle described. Though young, she had an abhorrence of sin so deeply developed that when confronted with impurity, even though the sin was not hers, she fled from it. As the webpage dedicated to her canonization in the diocese of Kosice states, Anna "made a decision in the power of faith, not against life, but for life as well as chastity".
The same was true for Maria Goretti. She resisted her attacker Alessandro to preserve not her own chastity but his. She pleaded with Alessandro: "No! It is a sin! God does not want it!" This was not a cry of self-interest but of counsel. Maria warned Alessandro that God did not want him to sin. In her final moments, Maria worried more about the state of Alessandro's soul than of her own.
Like Maria's situation, there is no question of sin in Anna's. If she had been unable to get away from her attacker, or if she had submitted in fear for her life, the sin would have belonged only to him, and would not have touched her own chastity. But neither was she morally required to submit to him. She did not have time to philosophize regarding the greater good: life or chastity. Rather, she acted on an impulse of virtue, of chastity so deeply developed in her young soul that she fled from its abuse into the arms of Jesus, Mary, and Joseph.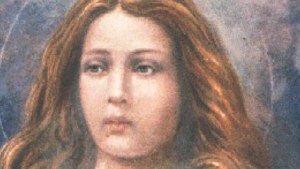 Read more:
Prayer to St. Maria Goretti for the healing of those who've suffered sexual abuse