Pope Benedict said that this Sunday's Gospel is a recap of Jesus' whole message: Be opened.
What can God do in your life with one Bible verse a day?
Subscribe to Aleteia's new service and bring Scripture into your morning:
Just one verse each day.
Click to bring God's word to your inbox
All the readings for the 23rd Sunday in Ordinary Time Year B are a good template for what happens to us when we're converted to a commitment to Jesus Christ — or reconverted, or recommitted, or even just reminded of our commitment.
First of all, we learn that our relationship with Jesus isn't our doing.
It's Christ's. He touches us, he looks to heaven, he groans, he commands our ears: "Be opened!" The movement to Jesus isn't us exerting effort — this Gospel shows Jesus exerting the effort.
The exact same thing happens in each child's baptism. The priest touches the ears, calling out "be opened!" And in Baptism, we ourselves are each gifted with a grace that is much deeper and more "real" than simple physical cures: We are given the virtues of faith, hope, and charity and the gifts of the Holy Spirit to put them to work in our life.
This relationship is so much Jesus' responsibility that it has to be renewed continually. Jesus deals "sacramentally" with the deaf mute – he performs signs that convey what they signify.
The sacraments we receive work the same way: The priest says "I baptize you," applies water, and we are incorporated into God's family. The priest says "I absolve you," and we are absolved. The priest says "This is my body" and the host becomes the body and blood of Christ. We do nothing but receive.
We are given the grace to hear God and the grace to speak truths we could never learn on our own.
Second, Jesus sums up what he wants from us.
Jesus gives us the ability to hear him before he gives us the ability to speak about him, because he wants to set the terms. In today's Gospel, the terms are strict: Don't tell anyone. The instructions he gave to us are also strict: Teach the nations my commandments.
We should tell others about him. In the Gospel, the people can't help but tell about what he has done. "They were exceedingly astonished."
We need to be open enough to be exceedingly astonished.
We need the enthusiasm of Isaiah who can barely contain himself when sharing what the Lord plans to do. "Say to those whose hearts are frightened: Be strong, fear not! Here is your God, he comes with vindication; with divine recompense, he comes to save you."
Who will reassure the frightened people in our day?
"Then will the eyes of the blind be opened, the ears of the deaf be cleared; then will the lame leap like a stag," Isaiah continues, with exhilarating imagery. "Streams will burst forth in the desert … and rivers in the steppe."
Read more:
8 Reasons to go to Sunday Mass
Next, Jesus wants us to act according to his priorities, not ours.
The second reading, the letter of James, shows that even in the early Church, some Christians were growing ungenerous and selfish.
"My brothers and sisters, show no partiality as you adhere to the faith in our glorious Lord Jesus Christ," he says. He describes a situation where a nicely dressed man and a poor man approach you. How do you treat them?
As St. James puts it, "Have you not made distinctions among yourselves and become judges with evil designs? … God choose those who are poor in the world to be rich in faith and heirs of the kingdom."
When Jesus bestows his greatest cures — wholeness in body or mind — he does so for those who are poor in spirit, and thus open to his love and grace. For those who are showing partiality or who are "on the take" there's not much he can do. Too often, like it or not, we are those Christians who are "on the take."
But that's okay. We can be cured of that malady. If we are selectively deaf or mute to the human beings around us, we should ask Christ to cure us. Then we will be the ones who say, like those in the Gospel, "He has done all things well. He makes the deaf hear and the mute speak."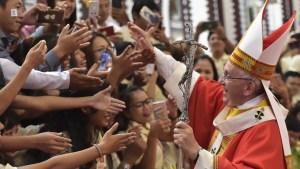 Read more:
Just 2 min a day with the Gospels, and your life will change, says Francis