Mover over helicopter parents, the lawnmowers are here ...
What can God do in your life with one Bible verse a day?
Subscribe to Aleteia's new service and bring Scripture into your morning:
Just one verse each day.
Click to bring God's word to your inbox
Yesterday, my 12-year-old forgot her lunch. Can you bring lunch for Sienna? my mom texted me after first period. She works at the school Sienna attends, so I'm sure Sienna caught her between classes and asked her to text me the lunch request.
I'll admit that my reaction was not quite as gracious as it could have been. Actually I sighed heavily and rolled my eyes, because Sienna told me earlier that morning that she had hot lunch. I swiftly double-checked Renweb only to discover that no, she did not have hot lunch. "Be sure you pack a lunch before you leave!" I told her as I went to chase down the 2-year-old and wrestle him into clothes.
I wanted to refuse to bring her lunch, but I didn't. I knew she had a volleyball game after school and would have no time to come home and eat beforehand. But I did text my mom back and say, Sure, I'll bring her lunch. But can you make sure she knows that this is the only time I will do this? She knew she needed to pack a lunch and she didn't do it. From now on, if she forgets her lunch she'll have to go without. 
I think my mom might have been a little annoyed, because she asked if it was out of my way. It wasn't — the school is literally around the corner from the house. But that's not the point. The point isn't whether or not it's convenient for me. The point is that Sienna has to learn that if she doesn't bring her own lunch, she won't eat. Otherwise, I'll inevitably end up bringing her a refrigerated lunch bag every day to college and y'all, I am not about that life.
I know all too well what that kind of parenting does to kids. It's not even helicopter parenting — there's a brand-new term for it, according to We Are Teachers: lawnmower parenting:
Lawnmower parents go to whatever lengths necessary to prevent their child from having to face adversity, struggle, or failure. Instead of preparing children for challenges, they mow obstacles down so kids won't experience them in the first place… But in raising children who have experienced minimal struggle, we are not creating a happier generation of kids. We are creating a generation that has no idea what to do when they actually encounter struggle. A generation who panics or shuts down at the mere idea of failure. A generation for whom failure is far too painful, leaving them with coping mechanisms like addiction, blame, and internalization. The list goes on.
Having spent so much time around college kids, I can tell you that this is 100 percent true. I have heard stories of professors fielding phone calls from outraged parents who are attempting to argue the validity of a grade their child got in a class. I have heard stories of parents writing papers for their child, and being mystified when their child was accused of plagiarism. And I have read the endless, nasty comments left about professors on anonymous "rating" sites.
Even worse, I've seen college kids crumble in the face of failure. Good kids, who try hard but just need to fine-tune their study skills. Or choose a new major. Or even just try again.
But they don't try again. They give up, go home, and get a job waiting tables because they don't know what else to do. They believe they can't overcome failure because they've never learned how to.
I do not want to raise children who don't know how to get back up after life knocks them down. But teaching kids to accept consequences and overcome their faults doesn't start with grand gestures or inspirational speeches. It starts with the little things. It starts with letting them feel consequences in the first place … especially the consequences of their own actions. It starts with letting them go a little hungry because they forgot their lunch.
So the next time Sienna forgets her lunch, she'll have to be hungry for an afternoon. Same for the littler ones — although the grace will extend further the younger they are, there's a hard stop for everyone because everyone has to learn that ultimately, they are their own lawnmower. I won't tackle those obstacles for them — if they want to overcome the hard things in life, they're going to have to find a way to do it themselves.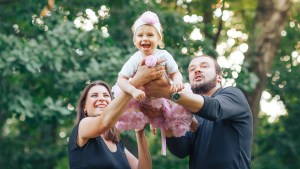 Read more:
5 Habits that parents of successful kids have in common