Jordan Taylor unwittingly changed his own future while looking out for an autistic teen.
When Jordan Taylor, a 20-year-old grocery store worker, reached out to a customer with autism, he demonstrated a depth of human compassion and kindness that makes life a little bit sweeter — as well as bringing a whole lot of joy to everybody involved.
Recently Jack Ryan Edwards, a 17-year-old boy with autism, went on a shopping trip with his dad to Rouses Market in Louisiana. There was something about his behavior that caught the attention of Taylor, who was busy loading shelves with juice. As he explained to CBS News, "Something in the back of my mind was just like, 'Ask if he wants to help you.'" So he did, much to the delight of Edwards and his dad, who went on to film the two young men diligently going about their work.
While we may not really appreciate the impact this simple act of kindness may have on someone who has difficulty communicating, Edwards' sister, Delaney Edwards Alwosaibi, describes the joy of seeing her brother being included in a simple daily chore. Alwosaibi shared the video on Facebook saying: "He could have ignored him. He could have made an excuse and said he couldn't allow him to help. Instead, he let him have his moment and in turn gave my family a moment we will never forget." And this "miracle in action" lasted a good half hour, of Taylor patiently giving his customer the chance to feel useful.
Although Alwosaibi describes Taylor as a "superstar," in a video posted by Humankind, the humble employee says that "he lives by a simple rule: always help others when you can." So it comes as no surprise that when the story got out another woman came forward explaining how Taylor had helped calm and comfort her 5-year-old daughter, who has left-sided cerebral palsy, when she had a "meltdown" on one of their shopping trips to the same store.
As with so many heart-warming stories, the goodness quickly spread. Not only did the store offer Edwards a part-time job, allowing the teen to make friends and socialize, a GoFundMe page set up by Alwosaibi to help Taylor go back to college raised over $130,000. So Taylor has been able to enroll at Grambling University with a possible teaching career ahead. What a great role model for all his future students!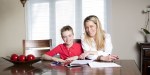 Read more:
Teacher brought a mom to tears with heartfelt letter to her son with autism