The Church is really quite "indulgent" -- just like her Lord and Master.
After my dad's parents died within a few weeks of each other a couple of years ago, my dad found some of my grandparents' old prayer books—even their high school catechisms!—and gave them to me. One of them had a section of indulgenced prayers, and each action or prayer had attached to it an amount of time: "an indulgence of 300 days," "an indulgence of three years," etc. One prayer card tucked away in one of the books said that reciting the prayer would grant 500 years' indulgence! So, does that mean I'd get 500 years off of my time in Purgatory by saying that prayer?
To quote the commercial, "That's not how this works. That's not how any of this works."
There's a common misunderstanding about time and indulgences: When they come across old prayer books like this, people often assume the time mentioned refers to days or years spent in Purgatory. But that is not and was never the case.
Let's review the history of indulgences, how they were initially tied to confession penances, and how they got to have days and years attached to them.
Read more:
A Primer on Indulgences, Part 1


Read more:
A Primer on Indulgences, Part 2


In the ancient Church, confession was public, rare, and accompanied by lengthy penances. It was allowed only for certain sins (murder, adultery, apostasy), and in some places, only once in your life. So, with serious sins came years-long penances. You would enter the Order of Penitents, and only after your penance was completed were you absolved and allowed to return to the Eucharist.
Then two big developments changed things. First, as the Catechism recounts, Irish monks developed the practice of private confession as part of spiritual direction, and then introduced this practice more widely as they evangelized mainland Europe, until it was adopted by Rome and given official approval. So, with private confession came private penances. Goodbye Order of Penitents, hello to the second development: the publication of manuals called penitentials that aided priests in determining what private penances were appropriate for what sins.
Then as now, the purpose of penance with confession was not to earn forgiveness, but to help reform our hearts, to make us sorry for sin and build us up in charity. It was to alleviate the temporal effects of sin, while absolution alleviated the eternal effect (damnation).
Temporal effects of sin are the spiritual scars left by our actions, like the hole left after a nail is driven into a board then pulled out. They are the warping of our wills by sin, the habituation toward evil. So, you replace a bad habit with a good habit: an act of penance.
The penitential manuals adapted the practices in the Order of Penitents to fit the practice of private confession, and focused on actions performed rather than length of time spent as a penitent. And it included "conversion tables" between the two systems.
So, for example, in the new penitential manual, performing Action X would be the equivalent of five years of penance when penance used to be public. The practice of referring to the old system continued over time, and the Church's generosity grew, so that it was becoming more "indulgent" (merciful) with penances.
By the post-Reformation period, you see prayers that would carry "500 years' indulgence." It was an expression of the Church's mercy compared to the ancient way, but you can see where confusion might creep in. It was never imagining "time off" of Purgatory, as Purgatory is not a temporal state; it's outside of time.
So, indulgences remit the temporal punishment due to our sins; they help to reform our hearts after we've deformed them in sin. Thus they're tied to Purgatory, which state is concerned with our purification from all attachment to sin—anything that would keep us from God.
Pope Paul VI reformed the system of indulgences in 1967 with the apostolic constitution Indulgentiarum Doctrina, "The Doctrine of Indulgences." Pope Paul removed the time element from indulgences and divided them into two simple categories: partial and plenary. Shortly after was published a new book of all indulgenced prayers and acts, the Enchiridion Indulgentiarum, or "Handbook of Indulgences," which also eliminated many of the old indulgenced prayers and acts.
So, when we find old books and cards with days and years of indulgence written on them, we should understand them as expressions of the abundant mercy of God and the generosity of the Church with the treasury of merit, that a simple prayer is equivalent to years on bread and water. And be glad that confession isn't public anymore!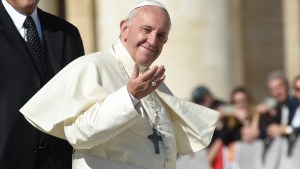 Read more:
"God has tattooed my name on his hand!" Pope Francis is blown away by God's mercy