Some people think being polite is inauthentic and old-fashioned, but here's why they need to think again.
Not long ago, I overheard a group of moms lamenting a girl in their daughters' grade. (Note: I was writing in a coffee shop, one foot away from their table. I wasn't meaning to eavesdrop, but it's hard to avoid when you leave your earbuds at home!) Apparently, this girl never says "thank you" to the moms who carpool her and never says "please" when asked if she'd like something.
Though I bristled at the way these women gossiped about a young girl and the girl's parents, who apparently "didn't bother to teach her manners," and found their remarks ungracious (not to mention hypocritical; gossiping about a child is as ill-mannered as one can get!), I understood the moms' frustration. Especially because lately, I've been hearing more and more parents admit they don't expect their kids to learn or to use manners. It seems "old-fashioned," I've heard. Or "uppity," even to lecture people about their p's and q's.
In a recent essay, another mom suggested that forcing her kids to practice good manners was teaching them to be "inauthentic." She wants them to feel thankful more than she wants them to speak it. In the essay, she quotes a friend who once told her, '"'I want' is the most authentic thing anyone can say. The emphasis on polite speech, and the need to say please and any real-time correction to that regard teaches the child that asking for what you want is not acceptable. It is my belief that this type of grooming results in adults who are unable to directly express what they want. These adults learn to instead use manipulation in attempts to meet their needs."
While I certainly want my kids to grow up able and willing to express what they need and want in life, and to genuinely feel their gratitude, frankly, reading this mom's article caused me to better understand those other moms' lament. Though well meaning, the idea that teaching manners somehow robs our kids of true self-expression totally misses the point of manners.
Good manners are not about us. They've got nothing to do with saying exactly what we feel or being exactly who we are (other than well-mannered people). Good manners are about others, about making others know that they are worthy of gratitude, worthy of a kind or even "magic" word. Good manners are about letting others know they are worthy of being respected. Of being treated decently. Of being offered our bon mots — whether we feel like being polite or not.
Honestly? I don't often feel like being polite. When it's 20 degrees outside, I don't feel like holding a door open at church for the elderly man pushing his walker ever so slowly up the sidewalk. I feel like pretending I don't see him and rushing inside. But I don't. I hold the door. Because it's polite — and it's not about me.
I don't often feel like smiling and saying "please" when I'm rushing to get the grocery store. But I do. I ask the butcher for four hand-trimmed chicken breasts please, not because I'm afraid to say what I want, but because it's good manners — and it's not about me.
I don't often feel like saying thank you to my husband or my kids when they do a household chore (because, doesn't thanking them make it seem like they did me a favor?! And not just something for the good of the household?), but I do. Because it's polite — and it's not about me.
It's about making that elderly man feel valued and welcomed. It's about making the butcher feel appreciated. It's about making my family feel loved. Good manners is about others. And that's what I want my kids to learn. We value politeness because we value kindness. And we practice both whether we feel like it or not, whether it's authentic in the moment or not.
In some circles, this is called The Golden Rule. In church circles, it's about loving thy neighbor. In "uppity" circles, it's called etiquette. But in each case, it's about treating others as you'd want to be treated. And that idea is anything BUT uppity or old-fashioned or inauthentic. Especially because something magic happens the more we mind our manners: we start to feel the words we say.
The more often I hold open doors, the more I appreciate the people who pass through. The more often I say please, the more I value the people I ask. The more I thank my family, the more grateful I feel for them. Feelings follow words. True story.
If I want my kids to feel grateful and be kind, I'll teach them to act that way with their words first.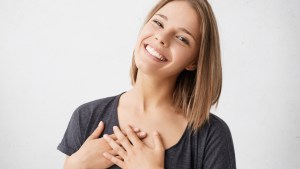 Read more:
Why manners are the glue that holds society together