Why not work the body and the soul simultaneously?
Lots of people talk about how they're too busy to talk to God, to read Scripture, to keep up with the liturgy of the Church, or to pray the Rosary. There's a way to incorporate all of these into another activity many of us "too busy" folks are also trying to make time for. Do them while you exercise.
I'm not advocating that all spiritual activities can be done while in the gym or out on the trail — there's much to be said for taking time every day to be still and rest before God, where we allow God to speak to us in the quiet of our souls. Yet for those who want to incorporate more spiritual exercises into their daily routine, here are a few suggestions.
Aerobics and repetitive prayer
As a married father of three small children trying to maintain a full-time job and do graduate school, it's hard to make time to do the Rosary. Yet I know I should, especially given that Our Lady has promised all manner of blessings to those who pray the five decades. I often do it commuting in the car — though I frequently don't complete it. Some aerobic workouts, however, are perfect for incorporating repetitive prayers.
Take running. Many folks hate running — be it on the trails or on the treadmill — because they find it boring or repetitive. I don't mind running outside, but I too detested the treadmill … until I realized I could pray the Rosary on it. A 20-minute run is a perfect amount of time to get through the entire Rosary.
Moreover, the often solitary nature of going running is perfect to help focus the mind on the Mysteries. If your run is even longer, it's easy to incorporate a Divine Mercy Chaplet. Now when I go on my typical 40-minute run, I can pray my entire Rosary, Divine Mercy chaplet, and get through a number of other prayers.
Stationary exercises and Scripture
The exercises I've found the hardest to complete are the ones where I'm stationary and focusing on one particular part of my body. Planks and side planks in particular have been the bane of my workouts for years. Yet I've realized that these exercises are perfect for reading something.
Planks and side planks are supposed to be done for about 60 seconds. A good rule of thumb is to try and do at least five planks over the course of a workout, eight or 10 if you're really craving punishment. If I bring my Magnificat along, I can get through all of the Mass readings, the daily reflection, and the saint for the day through the course of those plank exercises. As with running, I've found that focusing my mind on short Scripture readings or reflections while working my core is a great way to distract from the pain or tedium of the exercise. In a 45-minute or hour-long workout, anybody can incorporate spiritual reading into one's day.
Stretching and intercession
Stretching is an essential, if boring and time-consuming, part of the workout. Physical therapists will tell you to stretch for 10 to 15 minutes after a workout is completed. We rarely listen to their professional wisdom.
Yet I've realized that during my time stretching I'm able to do more spiritual reading— say, during a calf stretch. Moreover, even when reading isn't feasible, holding a stretch for 30 seconds (the typical recommended time), is perfect for saying a Hail Mary for some intention. Now when I stretch I offer up prayers for my family and friends.
Read more:
Pope Francis: How do you pray when someone asks you to pray for him?
An exercise bouquet
If we already exercise, applying these tips will turn 30 or 60 minutes into a powerful spiritual bouquet that will hone our spiritual life while strengthening our bodies. Indeed, it seems entirely appropriate that the two should go together. Moreover, consider how many of us already unintentionally incorporate prayer into our weightlifting, every time we cry out "O God, help me!"
Of course, what I've suggested here can never replace the time we need to take every day to quietly rest before Our Lord in prayer. Yet I've found that bringing my spiritual life into my workouts blesses not only my soul, but my ability to get through those moments when I really don't want to exercise. In truth, once we routinely combine prayer and exercise, we may realize that we've formed new spiritual and physical habits that are hard to kick.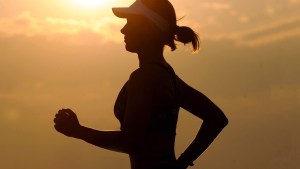 Read more:
Why exercise is one of the best things you can do for your family
Read more:
The Assumption helps us understand what we are as humans, suggests Pope Francis