You made a little table where Christ and I could speak ...
What can God do in your life with one Bible verse a day?
Subscribe to Aleteia's new service and bring Scripture into your morning:
Just one verse each day.
Click to bring God's word to your inbox
Dear Father N,
Five years back, you were in our town, filling in at the local college chapel for our regular pastor.
I was the musician for Saturday night Mass. For the two or six or 12 Catholics in a small private school, I would weekly creak across old golden floor boards to play a few hymns, a Gloria, an Agnus Dei, and then slip out into the night and back home to my small children.
That particular night, what little twilight we had vanished as I approached the stone chapel.
I remember staring at the stars with a viciousness that startled me. NOTHING. There was nothing, no-one, there. As for me? Nothing more than an impressive cluster of talking cells.
And — if-if-IF God was real — he could not possibly love me in the way he claimed to. The physical reality of the billions of people on earth, the billions before and yet to come, bumped against my doubt with deadening certainty. It was acutely impossible for One being to intimately love so many. What a fool I'd been.
My thoughts were bitter and brief. How can love that great be given to more than one?
I entered the chapel.
Father, I don't know if it was clear that brilliant November evening that I was angry. I don't know if a face concealed behind the piano can show the dark grief of a hurting soul.
I remember during the Eucharistic Prayer turning my sharp tongue to the Virgins. Catherine-Agnes-Cecilia, why have you all come to him? Why doesn't he seek you out?
I didn't get in line for Communion. I sang and played the antiphon over, and over, and over, and over. It struck me suddenly that I had stayed in the tide of my tirade too long. I'd lost track of Father … he was not at the head of the line, nor cleansing the vessels, nor back in his chair. Shoot. I'd messed up.
I looked to the left. And there you were, Father N, humbly and quietly waiting – I don't even know how long — for me to finish the song. With that strange, defenseless, impossible Body of love in your hand. Seeking me out, me alone. The congregation had received, and you, and He, waiting just for me. Finding me in my storm.
You inclined your head to ask me, "Would you like to receive?"
Not forcing, not requiring me to fix the tattered holes in my faith and my threadbare heart. Asking, inviting, this girl at 6:30 p.m., on a cold black night; a sinner, intimately, deeply desired by Christ. Courted by Him even as she sat in doubt at his banquet table.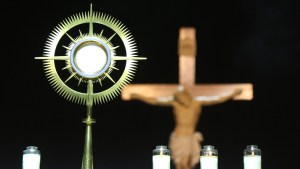 Read more:
How I began to believe that the Eucharist really is Jesus
Father, you have come to my mind so often amid this tragedy in the Church. I think of your face as I saw it – and those of other dear brothers, friends, priests I know – and I realize more fully my omission: I have thought of this day through all the years and never told you.
Never told you how that moment changed me.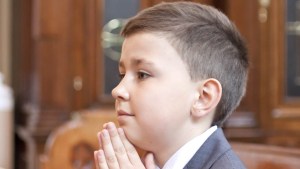 Read more:
How one mom got her priest on board to make confession a family-friendly affair
So for whatever it may be worth: Father, I see you. With no expectation for you to be perfect or to fit any one person's version of "priest." I see what you gave, what you give, as a (sometimes tired, grieved) man. And I tell you that you helped transform my life.
In the current warped devastation, you must know that through your humility and faith, you made a little room — a little table in which Christ and I could sit and speak.
These words are thin and inadequate, but I hope you hear my deep and real thanks.
With prayers for your health and peace. And please, come for dinner sometime.
Kate Madore
Read more:
Scandal in the Church: God made room for sinners as well as saints