One mom's negative outlook turned around in a hurry when she started this tradition -- and it can work for you too!
What can God do in your life with one Bible verse a day?
Subscribe to Aleteia's new service and bring Scripture into your morning:
Just one verse each day.
Click to bring God's word to your inbox
Most of my days are a fog of routine-oriented laundry drills, followed by chasing my two-year-old as he runs from me wielding a half-eaten quesadilla sprinkled with coffee grounds that he just snatched out of the garbage can. In the humdrum days of monotony or the throes of tantrums and overtired toddlers, positive thoughts aren't always at the top of my list.
Sometimes, I am so bogged down by kids, chores, appointments, and errands that I find my focus is on what isn't going right. It's easy to get swallowed by the fog of despair that can come with the struggles of motherhood. It's easy to get into the negative rut and bounce on the cynicism express. Constantly reminding myself to be happy, focused, and positive is hard to do when I'm trying to scrub black Sharpie off the wall without removing the paint. Negativity comes easily to me when I'm busting buns around the house trying to keep the freeway of chaos freely moving without breaking foot-skin on a Lego part. Those moments make positivity seem impossible or, at best, nonexistent. After all, smiling and saying, "This is the best day ever," isn't usually my first reaction when I find four cereal boxes tipped over and Cocoa Puffs cascading into the floor like broken strands of pearls.
Still, no matter how challenging my days are, I've realized that I have to try to be positive. My family requires it. To quote My Big Fat Greek Wedding, "The man may be the head of the household, but the woman is the neck." It's us women who are the glue that holds it all together. Without us, everything starts to get loose and fall apart — ourselves included. If we can't stay afloat, we can't get our family out of the water when they start to flounder.
So, to help stay adhesive and buoyant, I started a new tradition this year. Every evening at dinner, we all say one fun, happy, or positive thing that happened to us — except the two-year-old who is busy eating the coffee sprinkled-quesadilla, which incidentally happens to be his happy thing. Not only does this activity help everyone focus on the better part of their day, it gives us a mealtime conversation starter that our kids are excited about. Last week they were thankful for the following:
Seeing Daddy after he gets home from work.
My toys.
Drawing a computer.
Watching TV.
Getting a cake-pop.
Going to the children's museum.
Swinging on the swing set in the snow.
Playing with my friends.
My dinner.
Building a snowman with Daddy.
Playing Shopkins with dad in his office.
Going to church and getting a donut.
Seeing my sister back from school.
Being hugged by Mommy after I got hurt.
I'm finding that even the smallest good exists in the worst day — often hiding in quiet moments, however brief they are. We find faith in these little moments. Purpose, gratitude, and appreciation also reside there. While I'm always thankful for the food we eat, the clothes we have, and the roof over our heads, I've been lost in adulthood and not focused on smaller joys that are always around me. The ones my kids are showing me in what they choose as their blessings for the day. I started this activity to help my children understand how to find their gratitude, but it's quickly turned into a lesson that's teaching me how to find mine.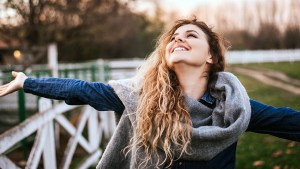 Read more:
The benefits of practicing everyday gratitude