Inspiring and wise messages can come through music …
What can God do in your life with one Bible verse a day?
Subscribe to Aleteia's new service and bring Scripture into your morning:
Just one verse each day.
Click to bring God's word to your inbox
St. Augustine had reason to say "sing and walk," referring to the joy of the Christian life. Likewise, Pope Francis has confessed to how much he likes to sing, even though he says he doesn't have the skills to do so, because "it does good to the soul."
The following famous artists took verses from the Bible, some more literally than others, and turned them into songs that became famous precisely because people (often without knowing their origin) identified with their message. Music has the power not only to entertain, but also to express our deepest human moments and emotions.
1. "40" by U2
This Irish band has dozens of songs inspired by the Bible. The song "40″ was the last one on the album War (1983). Bono literally opened the Sacred Scriptures (they were already a week late recording the album and they needed one more song) and decided to put music to Psalm 40, and just add some lines and modifications. The singer said that it took them 10 minutes to write it, another 10 to record it, 10 minutes to make the mix and another 10 to re-listen. U2 closed most of its 80s concerts with this song.
2. "He Turned the Water into Wine" by Johnny Cash
During a presentation at the San Quentin prison, Cash explained that this song was written during a tour he did in Israel with his wife, June Carter, in 1968. They had gone to Cana and went to a small church where there was a cistern with water from the same place that Jesus had turned water into wine (John 2:1-11). He said that the sound of the water and everything he felt being there inspired him as had rarely happened in his career. So he wrote this song in the car during his way back to Tiberias.
3. "Where You Lead" by Carole King
It is said that this song is inspired by the Book of Ruth of the Old Testament. It was written by King with Toni Stern for her album Tapestry (1971). Ruth was Naomi's daughter-in-law; however, when her husband died, her mother-in-law told her that she could go back home to her mother and marry again. Ruth told her no, that she will remain by her side (unlike Orpah, also Naomi's daughter-in-law and in the same position as Ruth, who does decide to return to her family when she is widowed). In the text (Ruth 1:16), Ruth tells her: "Do not insist that I leave you and go back. Wherever you go, I'll go."
Although King's song is addressed to a man, in her lyrics, we hear: "Where you lead, I will follow. Anywhere that you tell me to, if you need me to be with you, I will follow where you lead." Fun fact: King later covered this song with her daughter because she felt that the message to follow a man like that was not appropriate. This became the main theme song of the popular North American series Gilmore Girls, which deals precisely with a mother-daughter relationship.
4. "Be Still" by Kelly Clarkson
This ballad is from the third album by the artist but it is a reflection from the concert tour for her second album. The former American Idol winner wrote it with Aben Eubanks and was inspired by one of her favorite Bible verses: "Be still and know that I (God) am here" (Psalm 46).
Clarkson discovered that in all the hustle and bustle of the music industry, it is important to take time out to reflect and appreciate life. That's why she has never wanted to live in Los Angeles and prefers to stay in her native Texas.
5. "The Prophet's Song" by Queen
The band's guitarist, Brian May, composed this song in the 70s after dreaming of a great flood — referring, of course, to the chapters about Noah's Ark in the book of Genesis. The lyrics even mention the return of the white dove, which was the bird that Noah released to see if the waters had gone down, and which returned after seven days with an olive branch in its beak.
6. "Las Avispas" (The Bees) by Juan Luis Guerra
Moving to a more tropical beat now, this famous Dominican artist (who has said the Christian faith has given him the peace he needed in his artistic career) managed to incorporate 12 phrases inspired by different passages of the Bible (some more accurate than others) just in the first minute of the song. He continues doing it in the rest of the song.
"I have an admirable God in the heavens (Isaiah 9:5) and the love of his Holy Spirit (1 John 5:7-8). By his grace I am a new man (Ephesians 4:22-24) and my song fills me with joy (Proverbs 29:6). Of his image I am a reflection (Genesis 1:27). He leads me forever in victory (Corinthians 15:57) and has made me a head and not a tail (Deuteronomy 28:13-14). In my Christ, I can do all things (Philippians 4:13). Jesus told me to laugh (Job 5:21-23) if the enemy tempts me in the race (Hebrews 12:1). And he also told me, do not be mortified (Philippians 4:6), that I send my wasps to bite them (Deuteronomy 7:20)."
7. "His Hand in Mine" by Elvis Presley
This song became the title to his seventh studio album and was inspired by Psalm 23, which refers to God as a guide. This Gospel-inspired album was a success in sales, so much so that in 1967 he released another titled How Great Thou Art, and it was with this that he obtained his first Grammy in the category of "Best Sacred Performance."
And that's because, even though he is known as the King of Rock and Roll, Elvis never left behind his past in the church choir of his hometown. He always traveled with his Bible (currently exhibited in the Museum of the Bible in Washington DC, in the United States), both to seek help and comfort and to be inspired when writing songs.
8. "The Wanderer" by U2 and Johnny Cash
It is the only U2 song that is not sung by Bono (although he wrote the lyrics). The letter describes a man's journey and search for redemption. Bono himself explained that he was inspired by the Book of Ecclesiastes of the Old Testament, where there is a kind of preacher whose wide-ranging aphorisms talk about the meaning of life. He finally discovers that in reality, life's meaning is about loving what we do and serenely accepting the adversities that come our way. Bono sang it in a tribute to Cash after his death.
9. "Prodigal Son" by The Rolling Stones
The title makes it pretty clear that it is based on the parable of the prodigal son (Luke 15: 11-32). Originally, the song was written by the Rev. Robert Wilkins and had another name. As Keith Richards is a great lover of the blues genre, he found this song and introduced it to the band to include it in the LP Beggar's Banquet in the 60s.
10. "Joseph, Better You Than Me" by The Killers
The song was written by the lead singer Brandon Flowers, with Elton John and Neil Tennant (vocalist of Pet Shop Boys) collaborating. He really wanted to write a song about Joseph, the father of Jesus, who is often left in the background and yet is an equally important character in the story. Flowers told a magazine that once in church, someone mentioned Joseph and he realized that he rarely thought about how difficult it must have been for him to raise the child of God and take on that responsibility with Mary.
This song was released digitally in December 2008 and all its proceeds were donated to an organization that fights AIDS.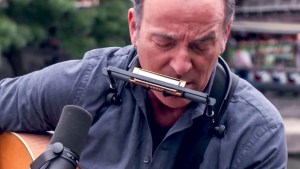 Read more:
Bruce Springsteen taps the Bible for inspiration