St. Josemaría Escrivá can help you turn the ordinary into something truly meaningful.
Do you ever wish you could make a difference in the world but you don't have the time, money, or energy?
The same old day-to-day habits can begin to feel meaningless and routine. We go through the motions, but why? Is the way we spend our time going to make a difference?
As Catholics, we benefit from the tradition of viewing every activity, not matter how small, as an opportunity to serve God. Anything we're doing can be done in His presence and offered to Him in sacrifice and thanksgiving. So if you struggle with feeling like your everyday life isn't meaningful, mediate on these  words from St. Josemaría Escrivá and allow them to shift your perspective:
"You must realize now, more clearly than ever, that God is calling you to serve Him in and from the ordinary, secular and civil activities of human life. He waits for us everyday, in the laboratory, in the operating theatre, in the army barracks, in the university chair, in the factory, in the workshop, in the fields, in the home and in all the immense panorama of work."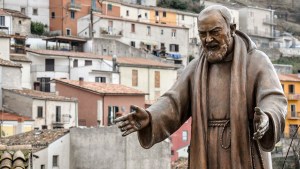 Read more:
When we're depressed or feeling blue, this prayer from Padre Pio is a way to reach out