Have we even begun to experience Christ's love like this?
Mother Teresa's Varanasi Letter is filled with powerful words about who God is and who we are.
She wrote it to her community as a blueprint for understanding faith. Just as it gives the Missionaries of Charity the key for their service, so it gives us the key for ours, and for our security in life and in death.
I worry that some of you still have not really met Jesus. One to one. You and him alone. Jesus wants me to tell you again, how much is the love He has for each one of you – beyond all that you can imagine … We may spend time in chapel – but have you seen with the eyes of your soul how He looks at you with love? Do you really know the living Jesus – not from books, but from being with Him in your heart? Have you heard the loving words He speaks to you? … Never give up on this daily intimate contact with Jesus as a real living person – not just an idea. How can we last even one day living our life without hearing Jesus say "I love you"? – impossible. Our soul needs that as much as the body needs to breathe the air. If not, prayer is dead – meditation is only thinking. Jesus wants you each to hear Him – speaking in the silence of your heart … Not only He loves you, even more – He longs for you. He misses you when you don't come close. He thirsts for you. He loves you always, even when you don't feel worthy. Even if you are not accepted by others, even by yourself sometimes – He is the one who always accepts you … Why does Jesus say "I Thirst"? What does it mean? Something so hard to explain in words – if you remember anything from Mother's letter, remember this – "I Thirst" is something much deeper than just Jesus saying "I Love you." Until you know deep inside that Jesus thirsts for you – you can't begin to know who He wants to be for you. Or who He wants you to be… He knows your weakness, He wants only your love, wants only the chance to love you.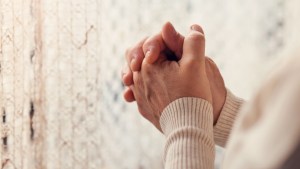 Read more:
What's the difference between meditation and contemplation?