When you can't speak kindly to yourself, how can you stand up for yourself?
What can God do in your life with one Bible verse a day?
Subscribe to Aleteia's new service and bring Scripture into your morning:
Just one verse each day.
Click to bring God's word to your inbox
More than anything, I want my kids to grow up with the ability to insist that people treat them well. Even though we can't control other people, we can at least learn to say, "No. You have no right to disrespect me." It's a lesson I'm still learning, and I want my kids to have a head start.
A big part of that is learning how to treat ourselves with the respect, kindness, and love that we deserve. After all, when you can't speak kindly to yourself, how can you stand up for yourself enough to ask others to treat you with respect? I want my children to be able to defend themselves against the damage that excessive self-criticism, and negative self-talk can do.
If you're stuck on where to begin with that, here are three ways to keep the habit of self-criticism from getting out of hand …  
1. Make a house rule: Nobody's allowed to be mean to you — and that includes you
A child who says in frustration, "I hate this. I did a terrible job," on an art project or assignment can be gently reminded, "Hey, I love you way too much to let you be so mean to yourself!" You can explain that you would never treat him like that, and he shouldn't either. Is there a better way to phrase the frustration? When he's upset with himself, you can help him think of a true, but kinder way to express the same feeling — could he say, "This didn't come out like I was hoping, and I'm disappointed"?
Call him the "Critical critter," Dr. Hazel Harrison suggests, and teach the child to imagine him as a type of monster who gets bigger when you feed him negative self-talk. Whatever name your child picks, she writes, this tactic "gives your child the space to separate the words and actions of the critter from their own and notice when the inner critic is at work. This gives them a better chance of taming harsh words … that eventually build into habits." When you've set the foundation by naming the beast, you can help your child get into the habit of saying, "Oh right, that's the critic talking. That's not me." Criticism is much less powerful when it's challenged.
3. Work on emotional intelligence
Get in the habit of describing your own feelings, and help them find words to describe theirs. Learning to say "I feel frustrated" (or disappointed, embarrassed, angry, or sad) helps us remember that experiencing a bad feeling is normal, and okay — and the feeling doesn't mean that there is anything wrong with you. You can choose what to do with the feeling, but the feeling itself is neutral — and having a good vocabulary for emotions helps that lesson stick. Identifying the feeling can make the difference between saying "I'm really frustrated about that mistake I made," which expresses a temporary problem, and saying "I'm a failure," which is never the truth, no matter how frustrated you may feel.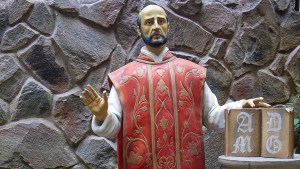 Read more:
4 Ways St. Ignatius can help you grow in emotional intelligence