Here are some tips for not raising "victims."
What can God do in your life with one Bible verse a day?
Subscribe to Aleteia's new service and bring Scripture into your morning:
Just one verse each day.
Click to bring God's word to your inbox
It's all around us: parents who are raising their children with a "poor me" mindset. To these parents, their children have already suffered way too much, and have faced difficult challenges. In the minds of these parents, it's their duty to repair the damage and save their children from any further trials in life. Too often what's actually happening is that these parents are working from the perspective of their own psychological wounds and not with the objective good of the child in mind.
Regardless of whether or not our children have had to suffer a lot or little in their short lives, the important thing is to be aware of the motivations behind the way we educate our children, and always to try to keep their best interest in mind.
Here are some tips to help us avoid raising "victims":
Don't try to remove all the obstacles that they will face
Let your children face uncomfortable situations. Let them be the ones to call upon you if they have to ask for help or offer an apology. Let them face the consequences of their actions and try to find a solution to a problem without your immediate intervention. The skills needed will help your children grow in strength and develop their problem-solving ability.
Don't fall prey to the mindset that says, "I have to give them what I didn't have."
Normally this mindset reveals an emotional response and baggage from personal complexes, and most of the time it has to do with material things that we lacked in childhood. When raising children we must be careful not to project and transfer our complexes to our children. We are very different individuals, and what we lacked may not be something they need or will miss at all.
Don't feel sorry for them and their life experiences
Granted, not all suffering that parents point to are exaggerations: some children actually do grow up amidst trauma and crisis, including devastating wars and illnesses. However, pity usually pushes us to overcompensate and to try to erase the bad experiences from their life with an abundance of things that we think are good. Instead of feeling sorry for them, we can begin to help them process what they have endured, heal from it, and to be proud of their efforts and achievements amidst their struggles.
Don't hide from them what's happening
The film Life Is Beautiful by Roberto Benigni is indeed beautiful and depicts the many incredible things a loving father was willing to do so that his young son wouldn't suffer the horrors of the Nazi concentration camp they were sent to. But in many real life situations we encounter, this is neither possible nor even desirable. We have a certain duty to afford children the respect they deserve and their right to be told the truth about what they're living through, in an age-appropriate manner. It's not a matter of making our children suffer unnecessarily, or of being excessively detailed. But there's a certain respect we can show our children in trusting that they can understand suffering, and will grow despite — and even thanks to — life's challenges.
Don't allow your children to be the center of the universe
A child who believes that the world revolves around him is unable to properly go outside of himself and connect with others as equals, and may very well see himself as a victim if things don't go his way. The best antidote to the victim mentality so prevalent in our modern-day "poor me" culture is to teach children to think about others, to learn to share, and to understand that happiness is a door that opens outwardly, not inwardly.
Read more:
5 Secrets to raising grateful kids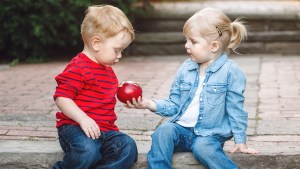 Read more:
4 Secrets to raising unselfish kids