Sometimes restoration projects include unexpected novelties.
A gargoyle is simply the protruding part of a pipe that serves to deflect water that would otherwise accumulate on a roof. It is by no means a medieval invention: Egyptians, Greeks and Romans used them in ancient times, to prevent moisture from destroying their ceilings.
In fact, the French word gargouille is a derivative of the verb gargouiller, which in turn derives from the Greek gargarizó: to gargle. That is precisely what, as an architectural element, the gargoyle is in charge of: a gargoyle collects and then expels water away from the roofs and walls of the building. Technically speaking, the fantastic stone carvings that do not serve as functioning downspouts are known as grotesques, not gargoyles, though popular imagination lumps them together.
Some historians point out that the use of gargoyles and grotesques in cathedrals also has a pedagogical function: the fantastic beasts reinforce the notion that evil remains outside the church, metaphorically and literally, and that evil flees from the holy places: "Upon this rock I will build my church, and all the powers of hell will not conquer it." It was a way to graphically represent what is written in Scripture, in times when there were few who could read and write.
Read more:
How did these Gremlins end up on a medieval church in France?
But the ways in which we depict evil change throughout the years. So, it should not be that surprising that in a contemporary cathedral we find, among the gargoyles, some of the better-known representations of evil of our day and age: Darth Vader, the former Jedi who decided to surrender to the dark side; Alien, Ridley Scott's extra-terrestrial creature who chased officer Ellen Ripley in outer space; or even the Gremlins, those small furry thingies one is not supposed to feed after midnight. Just like medieval masons who used their creativity and drew inspiration from the bestiary they had at hand (mostly inherited from Greek mythology) to decorate the façades of basilicas and cathedrals they worked on, contemporary artists and restorers do the same thing, blending tradition and pop culture to convey the same message.
¿Conocéis el astronauta de la Catedral de Salamanca?

¡¡Como él hay muchos más 'caprichos de restauración' por el mundo!!

¿Los descubrimos? pic.twitter.com/EmOzatTWez

— Nacho Navarro Gil (@nachonavarrogil) August 28, 2018
But not all grotesques and gargoyles necessarily represent evil. Some more innocent motifs can and have been used in these intricate designs. For instance, in the cathedral of Salamanca, one finds both an astronaut and what appears to be a faun having an ice cream cone: these figures were included in the façade of the "new" cathedral, back in 1992, as part of an artistic project called "the ages of man," which incorporated some contemporary motifs in the building. We have included all these images in the slideshow below: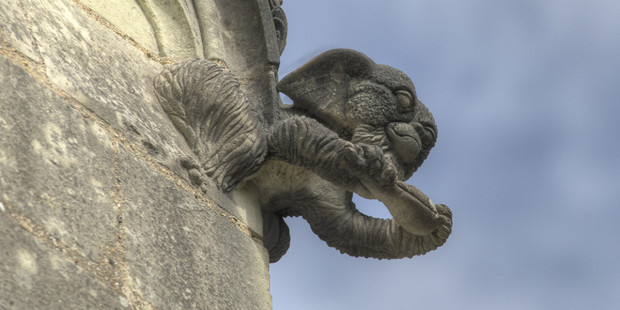 Launch the slideshow