"Send thy holy Angels, that under thy command and by thy power, they may pursue the evil spirits."
According to exorcists and popes, the devil despises the Virgin Mary and flees from her presence. Her humility was so radical that it crushes the "proud head" of Satan and is the surest defense against him and his attacks.
As the devil told Fr. Amorth, "She makes me angry because she is the humblest of all creatures, and because I am the proudest; because she is the purest of all creatures, and I am not; because, of all creatures, she is the most obedient to God, and I am a rebel!"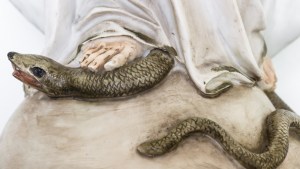 Read more:
This is why the devil hates the Virgin Mary
In light of this reality, it is appropriate to pray for the deliverance of evil spirits through the intercession of the Virgin Mary.
Below is a powerful prayer received in a private revelation from the Virgin Mary to Blessed Father Louis-Édouard Louis Cestac in 1864. The prayer invokes the aid of Mary, "Queen of Heaven," to send down a host of angels, ready to do battle against the evil one.
August Queen of Heaven, sovereign Mistress of the Angels, who didst receive from the beginning the mission and the power to crush the serpent's head, we beseech thee to send thy holy angels, that under thy command and by thy power, they may pursue the evil spirits, encounter them on every side, resist their bold attacks, and drive them hence into the abyss of woe.

Most holy Mother, send thy angels to defend us and to drive the cruel enemy from us.All ye holy Angels and Archangels, help and defend us. Amen.O good and tender Mother! Thou shalt ever be our Love and our Hope.Holy Angels and Archangels, keep and defend us. Amen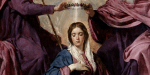 Read more:
We're called to join the army of this "Warrior Queen"