Dowager's hump is caused by bad posture from hours of staring at screens -- and yes, it's increasingly common.
What can God do in your life with one Bible verse a day?
Subscribe to Aleteia's new service and bring Scripture into your morning:
Just one verse each day.
Click to bring God's word to your inbox
I will never forget the day my husband pointed out that I was developing a hunchback. I was trying on a dress and he kept telling me to stand up straight. I finally snapped, "I am standing up straight!"
That's when he pointed out that my upper back was curved. I didn't believe him at first until I looked in the mirror. "No!" I exclaimed in horror. "Why do I have a hunch?!"
Some frantic googling revealed that my hunch had an actual name: dowager's hump. And it had a cause: bad posture, specifically bad posture caused by hours in front of the computer or staring down at a cell phone. Here's a quick anatomical overview of exactly how poor posture can create an actual hump, courtesy of Posture Profile:
The primary cause for this unsightly hump is bad posture. More specifically, the cause is forward head posture. Sitting, working at a computer, and always looking at a cell phone contribute to this common postural problem. As your head sits further and further forward, more and more pressure is put on the base of the neck. To compensate for this pressure, the body responds by thickening the bone and joint at the base of your neck and by adding on thick connective tissue. This is what creates that hump. Over time, this only gets thicker and more prominent.
As you're probably guessing, dowager's hump has indeed become increasingly common — most alarmingly among young children. And although it's fairly easy to correct in the early stages, eventually your joins will fuse together in a condition called kyphosis, and it can become nearly impossible to reverse.
Luckily I caught my developing dowager's hump early on and immediately took steps to correct it. I began to do yoga and Pilates, specifically focusing on strengthening the muscles in my back. I took my posture seriously — so seriously that I started walking around the house with books on my head (much to my children's amusement).
But the most effective thing I did was change my bad habits. I set a timer when I sat down at the computer and when it went off, I made myself get up and walk around, get some exercise, balance books on my head, and play with my kids. For a period of several months, I also kept my cell phone charging in my room and only permitted myself to look at it three times a day. Granted, at the time this was motivated almost entirely by vanity (no woman wants to have a hunch at 28!), but the benefits extended far beyond postural improvement. I was more attentive and engaged with my kids, structured our day better, cleaned the house more, and was generally much more patient and relaxed.
Gradually I fell back into keeping my phone tucked into my back pocket, but other good habits stayed with me. I have much better posture and stand to use the computer rather than sitting, I still balance things on my head to make my kids laugh, and my premature hunchback has disappeared. But the best benefit from discovering it in the first place has never faded and has changed my family for the better — since that day, I have never spent hours on end sitting in front of a screen without taking a break to play with the kids or get some exercise. In fact, these days I can barely stand to be in front of the computer for longer than an hour without needing to walk away. And that has changed my life in ways that go far beyond posture and appearance.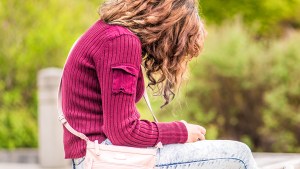 Read more:
Do you have "Mom posture"? It's not just in your jeans!