Cierra Lynn lost her job as an art teacher, but she found another way to use her talents.
As an adolescent, my experiences in the school bathroom reinforced my insecurities, self-doubt, and loneliness. Unfortunately, this is the case for many pubescent girls and boys, and the fact that school restrooms often have vulgar expressions written on stall walls doesn't make them any more uplifting places to be.
But a gifted artist in Washington, D.C., with a daughter of her own is using her talent to change that. As FOX News reports, Cierra Lynn lost her job as an art teacher in 2012, "but she's found a way to still give back to her students and promotes self-love, self-expression, and individuality through art" on the bathroom stall doors.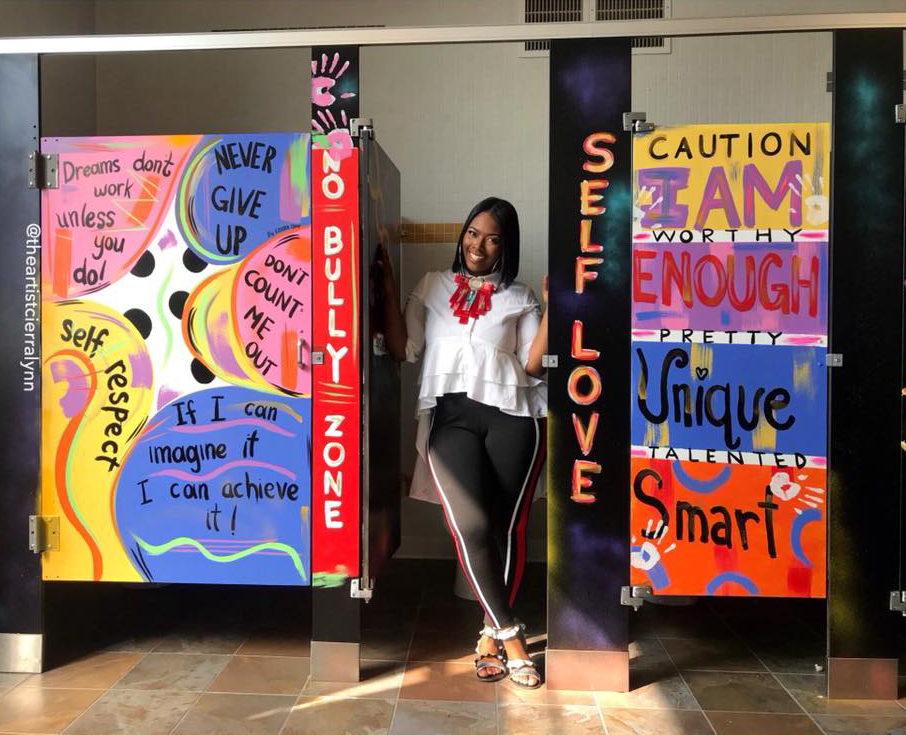 Vibrantly painted phrases such as "Bloom where you're planted" and "I am enough" adorn the walls, adding color and effervescence to an otherwise bland restroom. In explaining her motivation for these unusual masterpieces, Cierra said she wanted to encourage students, "regardless of your issues or problems, you still are beautiful, you're still worthy, you're still going to be successful in life."
As a successful artist and designer with her own brand and business, it's inspiring that Cierra is using her talent and time to lay a foundation of positivity for middle schoolers throughout D.C. Although she's no longer a teacher, she's undoubtedly enlightening young minds through her brushstrokes.