Many friends have left, but we're hanging in and here's why ...
What can God do in your life with one Bible verse a day?
Subscribe to Aleteia's new service and bring Scripture into your morning:
Just one verse each day.
Click to bring God's word to your inbox
The other day I was visiting a friend who recently moved out of my city. We were reminiscing about times we'd spent together and talking about the city and some of its current challenges. I live in a city that was recently ranked as the 9th worst place to raise a family. When I read the article in USA Today, I wasn't surprised, but I was saddened and a little upset. The ranking was based on a few factors: rates of violent crime, high school graduation rates, preschool enrollment, and public access to places to exercise. We scored extremely low on all but outdoor exercise space.
My friend was relieved that her family had chosen to move and escape some of those negative things, but her relief had turned a little judgmental. She pointedly asked me "How do you and your husband stay in such a dark, unhealthy place as this?"
I was taken aback by her directness and couldn't manage an answer right away. The truth is, it is hard for us to stay. I do worry about crime and violence and wonder if my kids are getting a good enough education. I hope that when they graduate from high school or college there are enough jobs for my children to be able to support themselves.
But the truth is, my husband and I just don't feel called to pack up our bags and high tail it out of town, despite the negative things here. We've gone to countless "farewell" parties and watched multiple friends decide that our city wasn't right for them — taking their families elsewhere, in search of a better economy or more promising schools. I'm happy for all of them, I really am. But as of now, I'm not going anywhere.
The phrase "bloom where you're planted" can sound a little cheesy, but the essence of the saying is true. For some reason or another, this is the city we feel we've been called to live in — even if it isn't a paradise on earth. I know I'm just one person, but I feel responsible to do the best by my city and community that I can. I'm a busy mom of three, but I want to be involved in making my community a better place — or at least trying to — before I write it, and all the people in it, off. For now, that means staying here and hoping for, working for and praying for the best. And before you think I'm breaking my back cleaning up urban parks or spending every night at a local soup kitchen (both completely worthy and wonderful things), let me assure you that I'm not. While I'd love to volunteer more at community centers and places like these, I just don't have the time. Instead, my "helping" the community looks much more simple — and a little more personal.
I feel called to love and serve my city by knowing my neighbors and spending time with the people who literally live next door and across the street from me. I encourage my children to play out in the front yard with the other kids around here (something that's becoming more and more rare these days), and I spend time with elderly and widowed people on my street. We frequent local parks and try to get to know other families there. I spend time chatting with the checkers at my neighborhood Trader Joe's and the crossing guard at my son's school.
Our culture is so fast paced and schedule-oriented (and I must confess oftentimes I am no different) and in all the hustle and bustle people forget to know each other. I think this weakens our communities and makes us all more vulnerable to crime and other maladies like the ones my city is facing. I truly believe that becoming a strong and healthy place to raise a family begins with knowing and practically loving those around us. What if instead of stealing from each other, we knew that our neighbors were hungry or in need of clothing and we shared with them? What if we knew a neighbor's daughter was struggling in school and instead of judging the family or ignoring the problem, we offered to help her with her homework, go to the PTA meeting and advocate for tutoring, or simply invited the family over for dinner and encouragement?
I still have a long way to go in these lofty goals of helping my community thrive through friendship and being a good neighbor. I'm often so busy with my own three kids that I don't have enough time for more than a quick hello across the driveway. But I'm committed to trying, to staying, to riding out the problems in my city and trying to make a small difference in the areas that God has placed me in.
Sure, I don't know anything about the legal process and I don't know where to start to address the unemployment rate. I can't solve the poverty issue or give food to everyone here who's hungry. 1 Corinthians 7:17 says "Only let each person lead the life that the Lord has assigned to him, and to which God has called him." And instead of picking up my family and trying to find a "better" or different life for us, we're attempting to do this. I don't know how long we will be called to stay here, or whether or not we will ever leave this beautiful yet broken city. But I do know, that for now, this is what the Lord has assigned to us, and this is where we're staying.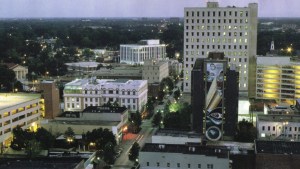 Read more:
Surprising results reveal "most Catholic cities in America"