A high-caliber leadership program, but in the context of faith
What can God do in your life with one Bible verse a day?
Subscribe to Aleteia's new service and bring Scripture into your morning:
Just one verse each day.
Click to bring God's word to your inbox
"Thank you, 

every woman, 

for the simple fact of being 

a woman

!" John Paul II wrote in 1995. "Through the insight which is so much a part of your womanhood you enrich the world's understanding and help to make human relations more honest and authentic."
The GIVEN Institute is a new nonprofit dedicated to mentoring young Catholic women to "receive the gift that they are; realize the gifts they've been given; and respond with the gift that only they can give." It is a blossoming of a seed planted in 2016 at the GIVEN Catholic Young Women Leadership Forum, organized by the Council of Major Superiors of Women Religious.
Elise Italiano, the executive director of the GIVEN Institute, who is a former communications official at The Catholic University of America, diocesan aide in Arlington, Virginia, and Catholic high school teacher, talks about the need for GIVEN and the plan for it and the kindling of the talents of young women who seek to do God's will for them.
Kathryn Jean Lopez: What's the call you answered in taking on this new project?
Elise Italiano: When I was asked to join the sisters' efforts in getting GIVEN off the ground, Christ's command in the Gospel of Matthew — "Without cost you have received, without cost you are to give" — immediately came to my mind and heart. The personal and professional opportunities I have been given – including leadership opportunities within the Church – can be traced directly to the mentorship I have received from female leaders. These women identified my gifts, took the time to mentor me, and provided me with opportunities for growth. I hope to give the next generation of Catholic women that same opportunity to encounter credible, faithful mentors who will equip them to pursue the mission that is uniquely theirs.
Lopez: When we both had roles in the first GIVEN conference, at the heart of it was an interaction with consecrated women religious and young women of all and undetermined vocations. That seemed quite unique to me. Will that element remain? Is it important that it does? 
Italiano: We surveyed the 2016 participants two years out, and they overwhelmingly agreed that the presence of religious sisters played a critical role in their positive experience. We hope that religious communities will continue to be a part of our leadership forum as speakers and as mentors who offer spiritual accompaniment to participants. Because GIVEN aims to showcase the diversity of ways that women are putting their gifts in the service of the Gospel, the involvement of both lay women and religious sisters is important. For many participants, GIVEN was their first encounter with religious sisters. They left the forum inspired by their joy and the spiritual maternity which the sisters extended to everyone. We also know that least five participants applied to enter religious life following the forum.

Lopez: What did you learn at the first GIVEN conference?
Italiano: I was invited to present on how to engage in civil communication on hot-button issues. It was aimed at helping participants navigate difficult conversations at work and at home, with particular attention to neuralgic issues within the Church. It's a talk I had given several times and I wasn't thinking much of it when I was presenting. But after I was done, the young women started forming a long line to speak to me and my co-presenter, and it became clear how grateful they were for formation that was faithful but also practical. It got me thinking about how many leadership programs there are for women in the private sector, which offer high quality programming and meaningful opportunities for growth. It was clear that GIVEN could offer that caliber of programming but within the context of the faith and an encouraging community. It made me believe that the sisters who conceived of the forum were genuinely inspired.
Lopez: What does the Holy Spirit have to do with it? 
Italiano: GIVEN is drafting behind the Holy Spirit, just as a cyclist follows another's momentum. The timing of GIVEN's launch coincides with the opening of the Synod on Young People, the Faith, and Vocational Discernment. Young women have asked the Synod Fathers for two things: to "deepen its understanding of the role of women" and for leadership programs aimed at helping them to "encounter female role models within the Church." The first GIVEN Forum was developed in 2015 with both of these things in mind.
Lopez: Who should be getting involved with the GIVEN Institute? 
Italiano: Later this fall we will open up applications for a new cohort of young adult Catholic women. Generally, GIVEN's programming is a good fit for young women with a heart for mission and an aptitude for leadership. The forum will be track-focused to meet different needs.
We're also looking to recruit and train women leaders who want to serve as mentors, first at the next forum and then in our signature one-on-one program.  Women who have worked in a variety of fields – secular or Catholic – are welcome to inquire about participating.
And of course, we welcome the support of anyone who wants to join us in this mission: bishop or clergy, lay or religious, Catholic or non-Catholic.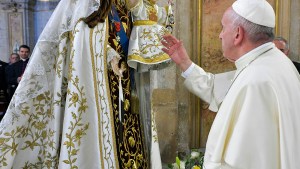 Read more:
Pope Francis calls on Church to adopt a "Marian style"
Lopez: What does Our Lady of Guadalupe have to do with GIVEN and the lives of women? 
Italiano: GIVEN is entrusted to Our Lady of Guadalupe, Mother of the New Evangelization. I can't think of a better example of how a woman can effectively evangelize than her – with gentle strength, a maternal spirit, and by offering the Good News in an attractive, disarming way.
Lopez: What are you hoping comes out of the youth synod next month at the Vatican? 
Italiano: I think the preparatory documents for the Synod paint a thorough picture of the complex circumstances in which many young adults are coming of age. But despite the complexities, I think that the solution is simple: get back to basics.  The Church needs to proclaim the Good News, pass it down through personal relationships, and inspire young people to strive for sainthood. Young people are searching for identity, community, and purpose. If we can help young people encounter Jesus Christ, they'll find what they are looking for.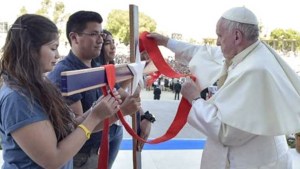 Read more:
Youth might not know what a synod is, but they're shaping one