Calls on companies to have courage and creative genius.
What can God do in your life with one Bible verse a day?
Subscribe to Aleteia's new service and bring Scripture into your morning:
Just one verse each day.
Click to bring God's word to your inbox
We need a "new humanism of work," Pope Francis pleaded in a long interview granted to the Italian financial newspaper Il Sole 24 Ore and published on September 7.
Last May, the Congregation for the Doctrine of the Faith and the Dicastery for the Service of Integral Human Development published a document titled Oeconomicae and pecunariae quaestiones("Economic and financial questions"), which called the economic system to reconnect with "what is authentically human."
The pope's interview with a financial newspaper delved into this document.
For Pope Francis, the current economic and financial system "has put at the center an idol, which is called money." For him, this system promotes a "culture of waste" and "kills" because it is no longer based on the human person. He noted that mass unemployment in some Western countries is also a result of this system that has made income its "first and only" goal.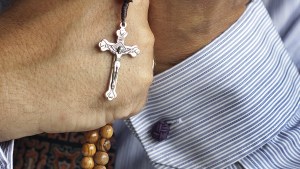 Read more:
A Job-seeker's Rosary meditation
Faced with this observation, Peter's Successor called for a "new economic order" based on recognizing that man is the most important resource of any company. For this change, he said, there needs to be an awareness that humanity is "one family." The people who run the economy, in particular, "can no longer not listen to the cry of the poor." The pope is calling for a true "new humanism of work."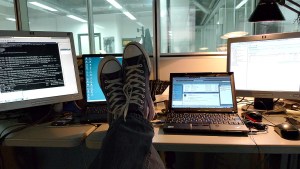 Read more:
A lesson from Eden: We were made to work
The "high spiritual meaning of work"
Companies' actions, he explained, are positive when they act "respecting the dignity of people and pursuing the common good." The Sovereign Pontiff therefore called on companies to "complete technical training with training in values: solidarity, ethics, justice, dignity, sustainability," etc. This new approach to their relationship with others would also be positive for the environment, the pontiff said, because "environmental degradation and human degradation go hand in hand."
In this economic interview, the Bishop of Rome also returned to the idea of work as a source of dignity. "Working is good for the person because it is tied to the dignity of the person, to his ability to take on responsibility for himself and for others," he said. It is also has a "high spiritual meaning, inasmuch as it is the way in which we give continuity to creation, respecting it and taking care of it." It is therefore "a healthy source of pride" that "helps one to keep a healthy sense of reality." Conversely, subsidies, "when not tied to the goal of restoring work and employment, create dependency and remove responsibility," said Pope Francis.
As for business leaders, he invited them to "know how to lead, but also know how to listen." He called them to create virtuous circles of work and accountability. Companies, urged the Successor of Peter, must promote a "dignified life," which can only have positive results for them. This requires, he admitted, "courage and creative genius."
Read more:
Pope Francis Rejects 'Throw-Away Culture'
Talking about migrants as "people"
Asked about the migrant crisis in Europe, the Bishop of Rome described it as a "big challenge." However, welcoming "with open arms" is a requirement of Christ himself. Conversely, newcomers must be "respectful" of the culture and the laws of the countries that host them. To respond to the migration crisis, the pontiff invited Europe not to speak only of numbers but especially in terms of "people."
The Church, for its part, must be a "mother who embraces" everyone and knows how to share the hope of those who have left everything behind for a better future. As for the companies, they must help to give "the dignity of work" to the poorest, and provide their country with the possibility of "building just and democratic societies."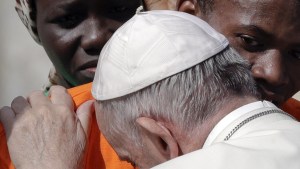 Read more:
Good Samaritan didn't check on documents, says Pope Francis