The film stormed into theaters last weekend and became the fall's biggest cinematic hit.
What can God do in your life with one Bible verse a day?
Subscribe to Aleteia's new service and bring Scripture into your morning:
Just one verse each day.
Click to bring God's word to your inbox
Not everyone rushed out to see The Nun, and not everybody should. It's an R-rated horror movie, after all, and it is pretty bloody. But it has some interesting elements that are worth pointing out.
The Nun is a dark movie, but it's deeply spiritual, too. The story it tells — about a demon masquerading as a nun in an abbey with a very disturbing history  — is predicated on supernatural evil, which can be no-go for some Christians. But here's the thing: When our characters fight this sort of diabolical adversary, they do so with prayer and faith.
"Thematically, when I think about these movies, it all comes down to belief," says Nun screenwriter Gary Dauberman in a featurette released by The Nun's makers called "Faith Over Fear."
That echoes something that Dauberman told me in an interview last year. "Even if there's a demonic presence, I'm always going, 'if there's a demonic presence, that means that somewhere out there there's good,'" he said. And a lot of times in these movies, the good comes from within.
That good, in The Nun, is best embodied by Sister Irene (played by Taissa Farmiga), a young novice in training to become a full-fledged nun. She's a small, seemingly meek girl who hardly looks like a threat to anyone. But in the course of the film, she proves to be a match for anything. Her inner strength of faith and purpose put her male compatriots (Fr. Anthony Burke and a young, somewhat smitten delivery man called Frenchie) to shame. Damsel in distress? Hardly. More often than not, she's the one who does the rescuing.
In our post-Wonder Woman cinematic landscape, that on its face isn't that surprising. But here's where The Nun grows particularly deft.
While it's a bit more common today to see women take the fore even in action movies (and next March, Oscar winner Brie Larson will star as Captain Marvel, one of the strongest superheroes ever), Sister Irene's strength feels very different. She's not out there throwing windmill punches or leaping off cliffs as Alicia Vikander's Lara Croft did in Tomb Raider earlier this year. She's not killing her enemies like Jennifer Lawrence's Red Sparrow. She prays. She endures. She bravely walks through the abbey's darkest dungeons, knowing that while her physical strength may not be enough to conquer the literal demons in her way, her faith is more than a match.
Sister Irene reminds us that humanity is home to many different sorts of strength, and that women don't need to be ripped, weapons-wielding action heroes to be powerful. Hers is the sort of strength that we've often seen in our mothers and grandmothers, our wives and our daughters.
The makers of The Nun crafted a remarkably daring character in Sister Irene, really, especially in the dark genre in which she's featured.
Studies show that, despite some signs of progress, women are still woefully underrepresented in Hollywood's most popular movies. Men are far more likely to star, speak, and even appear in a given flick, and when women do show up, they're far more likely to be sexually objectified. Moreover, horror movies tend to attract younger, predominantly male fans. The scantily clad, screaming woman lying helpless before the movie's monster has been a trope from horror's earliest days.
Sister Irene breaks the mold. She doesn't scream or wilt in the face of danger. She's not on screen to serve as some sort of prurient visual candy. In fact, with the exception of one scene (where the demon rips away part of her habit in back), she dresses more modestly than a Victorian schoolteacher. And instead of falling into the arms of handsome Frenchie, she embraces another: Jesus, taking the vows that make her a lifelong Bride of Christ.
The Conjuring franchise, of which The Nun is the fifth installment, has always featured strong women: They often fill the roles of hero, victim, and villain. But The Nun skews particularly feminine, and Sister Irene is hardly alone. We learn that the abbey is full of strong women — nuns who've given their all and then some to fight the dark entity that, for hundreds of years, they've managed to keep bottled up below. They might not look it, but the nuns are fierce, fearless warriors, wielding the weapons of prayer and faith and service.
The Nun is a bloody, sometimes bleak and always dark film, yes. But the women in it give the story light and hope.
While some today might look at the vocation of a nun and perhaps roll their eyes, seeing her life as one more example of how women are forced into subservience by a male-dominated culture, The Nun is a reminder that this is not the case. There's nothing weak about service, nothing meek about following a higher, counter-cultural calling. Women aren't just finding their strength today; they've always been strong.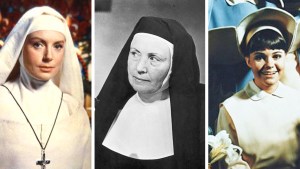 Read more:
11 Famous and fabulous nuns in classic cinema