Only three distinct occasions of divine tears are recorded in the New Testament.
At the incarnation Jesus took on human nature and embraced all the emotions humans experience in life. This is clearly shown throughout the Gospels as Jesus displays emotions of joy, anger and sadness.
In particular, the Gospels highlight three occasions when Jesus shed tears. These weren't the only times when Jesus cried during his life, but they do give us an insight into particular events that touched the heart of Jesus.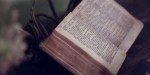 Read more:
Here's how to dispose of an old Bible