Showing is more powerful than telling.
What can God do in your life with one Bible verse a day?
Subscribe to Aleteia's new service and bring Scripture into your morning:
Just one verse each day.
Click to bring God's word to your inbox
Kids might pretend they can't hear you (unless, of course, you whisper the word "cookie" from a mile away), but they're always listening. ALWAYS. And watching. Of course they can recite back to you all the life lessons you churn out, but what really sticks is seeing you live by the words you guide them with. When you practice what you preach, there's a much stronger impact. The moms below make sure to model the behaviors, habits, and beliefs they want to instill in their kids — do you do some of these things, too?
Look someone in they eye when you talk to them
How many times have you been so busy you forgot to make the small gestures that mean so much? These mothers made a point to do the little things that make people feel acknowledged — like eye contact and a smile — which resulted in their kids reaching out to make those kinds of connections, too.
"One thing my mother always did — and I remember it embarrassed me when I was a kid — was to say hello and engage everyone she saw in conversation. She treated everyone the same, whether the person was a hotel maid or an executive. I try to emulate that same thing in front of my son, and he notices." — Kristin, 45-year-old mom of one, Austin.
"I make sure to thank everyone and wish them a good day/evening. The cashier at the grocery store, my waiter, the hostess when I leave the restaurant, receptionists when I go to appointments, the mailman, the garbage man. I want to show my kids that everyone is worthy of our thanks, that everyone has important jobs." — Christie, 46-year-old mother of two, Alexandria, Virginia
Hang your head and apologize when you're wrong
Humility is hard. Admitting you were wrong to those who need to hear it shows that you value honesty over validation. It levels the playing field, proving you don't think you're above making yourself emotionally vulnerable: a very human trait that seems to be lacking in today's world.
"I make sure to apologize to my kids when I am wrong. I taught them how to give a really good apology based on Randy Pausch's "The Last Lecture" when they were young, rather than the standard "sorry." However, I wanted to make sure that as a parent, I was willing to humble myself and admit it when I screwed up. It's not always easy, but it's been an important way for me to keep their trust." — Ashley, 43-year-old mom of two, Crofton, Maryland
Work through challenges with your spouse
Marriage isn't always bright smiles and hand-holding: it takes work to have a long, happy life together. Fairy tales have happy endings in which beautiful couples find each other and … well, we don't see the rest. But we all know there is way more to the story!
"Our kids see us argue and apologize — not fight and not serious deep conversations, but they see us not be thrilled with one another, yet still love each other. I think that's a huge one because we want them to understand you're not always going to like your spouse, but you should always love them and work through life's challenges together." — Jennifer, 34-year-old mother of five, Lake Stevens, Washington
Be affectionate with your husband in front of the kids
Your kids need to see that solid partnerships include affection. Yes, you are friends, but you're so much more than that. Make them understand that they deserve to find a partner who showers them with the kind of PDA that will make their future kids roll their eyes and say, "Gross! Cut it out!" Hiding this facet of your relationship from them risks making them believe a marriage without hugs or stolen kisses is the norm.
"I make sure they see me hug my husband. I want them to see that we like each other." — Julie, 42-year-old mother of three, Annapolis
"I make sure my kids see me kiss my husband, even if it's a bit more passionate than the normal peck." — Megan, 32-year-old mother of two, Milwaukee
Take some "me" time
It's impossible for a car to carry the load if it hasn't fueled itself up first. Letting your kids see you make time for yourself reminds them that you're not a machine made to just give give give. It also shows them that they are capable of relying on themselves for their own happiness, too.
"I exercise daily. Both my boys know that first thing in the morning, I'm on my run. It's part of my unconscious routine, just like breathing. It's my hour of 'me' time that does wonders for my mood." — Christy, 43-year-old mother of two, Avon, Indiana
"Talk kindly to myself. At night I ask my 4-year-old what he wants to thank himself for, and he'll say something like, 'I played nice with my brother,' and he asks me and I'll say, 'I thank myself for being loving and friendly to everyone.'" — Amanda, 29-year-old mother of two, Orlando
"I make sure my kids see me reading books for pleasure. I want them to see that a love of reading can last your whole life and provide great relaxation and enjoyment." — Amy, 45-year-old mother of two, Los Angeles
Believe in yourself
Faith is a strong force that can help you power through anything. Your kids will see themselves in you, so if you show them that you believe you can do something, that you have faith in yourself — and then follow that through to success — they will start thinking that they hold the same power.
"[My daughter is] watching me work full time and go to school to earn my first degree, and then immediately after that, my second degree. I want her to see that there is really nothing impossible if you try hard enough, you can do whatever you set your heart to." — Amy, 35-year-old mother of one, Durham, New Hampshire
"Standing strong in your convictions rubs off on them, without a doubt. It is important for them to see that in you." — Ashley, 32-year-old mother of one, San Diego
Handle pressure with grace
Life has a lot of speed bumps, but it's not the bump that can ruin a day: it's how you decide to deal with the journey over it.
"Making jokes while waiting for AAA, brainstorming out loud when the pool is closed, punting at 6 p.m. when the defrosted meat for dinner smells weird … I make a conscious effort in these moments to remind them of all that is going right, and how we always have the option to have a good attitude. I want them to believe they are capable of handling whatever comes their way, and they also can handle hard moments with a good attitude." — Stephanie, 38-year-old mother of four, Denver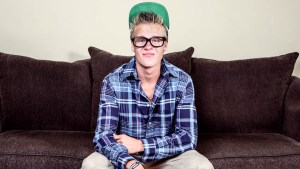 Read more:
Have we surrendered our kids to the popular culture?