"Lord Jesus, let me know myself and know Thee, and desire nothing save only Thee."
We could say the saints are "romantics" at heart, lovers who are deeply in love with God. When they prayed, they did so from their heart and expressed it in how they wrote their prayers.
One of the greatest of these saints is St. Augustine, who was an eloquent orator and talented writer. He used the best of Roman culture to formulate his ideas and literary works.
Below is a beautiful poetic prayer written by Augustine, which expresses his humility and the great love he had for God. We are invited to make these words our own and stir up in our hearts a desire to know ourselves in the light of God's divine providence.
Lord Jesus, let me know myself and know Thee,
And desire nothing save only Thee.

Let me hate myself and love Thee.
Let me do everything for the sake of Thee.
Let me humble myself and exalt Thee.
Let me think of nothing except Thee.
Let me die to myself and live in Thee.

Let me accept whatever happens as from Thee.
Let me banish self and follow Thee,
And ever desire to follow Thee.

Let me fly from myself and take refuge in Thee,
That I may deserve to be defended by Thee.
Let me fear for myself, let me fear Thee,
And let me be among those who are chosen by Thee.

Let me distrust myself and put my trust in Thee.
Let me be willing to obey for the sake of Thee.
Let me cling to nothing save only to Thee,
And let me be poor because of Thee.

Look upon me, that I may love Thee.
Call me that I may see Thee,
And for ever enjoy Thee.

Amen.
In 395, Augustine was named bishop of Hippo (modern-day Annaba, Algeria), becoming the spokesman of the Church in North Africa.
As bishop, Augustine guided his flock for 34 years, instructing them by his teaching and writing. He is especially honored for his highly developed, careful explanations of the Faith, as well as his Confessions, The City of God, and various treatises and sermons.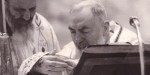 Read more:
Padre Pio prayed this prayer after receiving Holy Communion


Read more:
Mother Teresa prayed this inspirational prayer on a daily basis