During times of darkness, this psalm can put words to our despair and lift us up.
What can God do in your life with one Bible verse a day?
Subscribe to Aleteia's new service and bring Scripture into your morning:
Just one verse each day.
Click to bring God's word to your inbox
The world seems especially dark lately, and when the world is dark it can be difficult to sing songs of thanksgiving, joy, and praise. It feels wrong to celebrate when our hearts are grieving. But many chapters in the Book of Psalms are songs of lament — songs written from places of anguish, despair, fear, and hopelessness. When you don't know what to say to God, the psalms provide the words for bringing our sorrow to Him who suffered for us. One of these psalms is Psalm 88. When you find yourself in a hopeless place, turn those thoughts and feelings into a prayer by pondering this psalm …
O Lord, my God, I call for help by day;
I cry out in the night before thee.
Let my prayer come before thee,
incline thy ear to my cry!
For my soul is full of troubles,
and my life draws near to Sheol.
I am reckoned among those who go down to the Pit;
I am a man who has no strength,
like one forsaken among the dead,
like the slain that lie in the grave,
like those whom thou dost remember no more,
for they are cut off from thy hand.
Thou hast put me in the depths of the Pit,
in the regions dark and deep.
Thy wrath lies heavy upon me,
and thou dost overwhelm me with all thy waves.
Thou hast caused my companions to shun me;
thou hast made me a thing of horror to them.
I am shut in so that I cannot escape;
my eye grows dim through sorrow.
Every day I call upon thee, O Lord;
I spread out my hands to thee.
Dost thou work wonders for the dead?
Do the shades rise up to praise thee? Selah
Is thy steadfast love declared in the grave,
or thy faithfulness in Abaddon?
Are thy wonders known in the darkness,
or thy saving help in the land of forgetfulness?
But I, O Lord, cry to thee;
in the morning my prayer comes before thee.
O Lord, why dost thou cast me off?
Why dost thou hide thy face from me?
Afflicted and close to death from my youth up,
I suffer thy terrors; I am helpless.
Thy wrath has swept over me;
thy dread assaults destroy me.
They surround me like a flood all day long;
they close in upon me together.
Thou hast caused lover and friend to shun me;
my one companion is darkness.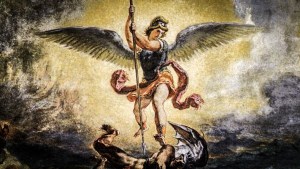 Read more:
Overwhelmed by so much evil? Here are 3 of St. Michael's weapons