Love is its own reward ...
What can God do in your life with one Bible verse a day?
Subscribe to Aleteia's new service and bring Scripture into your morning:
Just one verse each day.
Click to bring God's word to your inbox
On Labor Day weekend, Dominican Father Patrick Mary Briscoe had the privilege of officiating his sister's wedding. These are the words he spoke to her and her husband.

~
A very old Catholic tradition begins with a priest offering these words to a couple about to wed: "My dear friends: You are about to enter upon a union which is most sacred and most serious. It is most sacred, because established by God himself. By it, he gave to man a share in the greatest work of creation … And in this way he sanctified human love."
Kevin, for nearly as long as I can remember, Kristin has played at being a bride. One Disseldoo—which as you now know is what we call our family Christmas gathering—Kristin and Kathleen received full bridal kits. Quickly they tore open the packages and on went the costume dresses and veils. On another occasion, one Halloween, Kristin dressed up as a fairy-princess bride. She added other dimensions on to being a bride, but was unwilling to surrender her fundamental commitment. Even Kristin's patron saint, St. Elizabeth of Hungary, is a patron saint of brides! Kevin, weddings have been a game that Kristin has played her whole life … until today. Today, she's no longer playing at marriage. Today, it's for real. As our tradition tells us: "You are about to enter upon a union which is most sacred and most serious." And today she is not just any bride. Today, Kevin, she is your bride.
I have three simple observations to share about this new reality you are embarking on today. If I offered any more observations, it would provoke untold commentary from my family … in fact, they'll probably say that three observations include at least one too many.
First, as you know, marriage is a partnership of the whole of life. You have no idea what's coming. Your future will be like those days in medical school when you anxiously awaited the results of the lottery for your hospital residencies. But unlike the kinds of contracts you signed for hospitals and Indiana University, this pact you make today comes from the depths of your hearts. Marriage is a covenant. Marriage is a promise of your deepest self, a promise you have both seen lived out by your parents. As the Catholic liturgy puts it: "This union, then, is most serious, because it will bind you together for life in a relationship so close and so intimate, that it will profoundly influence your whole future. That future, with its hopes and disappointments, its successes and its failures, its pleasures and its pains, its joys and its sorrows, is hidden from your eyes."
You've managed, because of your commitment to each other, to have already faced the great difficulty of living apart in separate cities and dealing with very different schedules. "You know that elements of adversity are mingled in every life, and are to be expected in your own. And so not knowing what is before you, you take each other for better or for worse, for richer or for poorer, in sickness and in health, until death." This is the Biblical teaching we heard in the Gospel passage which you chose to have proclaimed today (Mark: 10:6-9). God expects this promise you make today to be absolute, come what may. "Henceforth you will belong entirely to each other; you will be one in mind, one in heart, and one in affections."
Second, because of the depths of this promise, your marriage covenant will demand sacrifice. "Whatever sacrifices you may hereafter be required to make to preserve this mutual life, always make them generously. Sacrifice is usually difficult and irksome. Only love can make it easy, and perfect love can make it a joy." The beautiful reading you chose from the book of Sirach (Sirach 26:1-4, 13-16) shows how by sacrificing and serving each other, your partnership will make your lives flourish.
With God's help, you will be true blessings for each other. But, sacrifice alone will lead to the true blessings of life: joy, peace, and hope. These, more than wealth and standing, are the blessings which make a life. "We are willing to give in proportion as we love. And when love is perfect, the sacrifice is complete."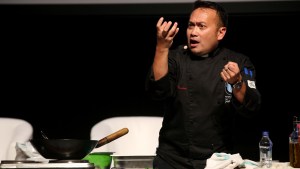 Read more:
Cooking priest encourages couples to "spice up" their married life with faith and sacrifice
Finally, recall that today marks the beginning of something, and so, I ask you to return always to the graces of this beginning. You've shared beginnings before: your first date at Taco Bell, starting different rotations, moving to Jacksonville and Gainesville, proposing and deepening your relationship as an engaged couple … but those beginnings weren't like this one. You will have many — please God — joyful days ahead of you. And as these days pass, mostly in ways far less grand, you will have to renew your love for each other.
St. Bernard of Clairvaux—Kristin, he's the saint who wrote the prayer, the Memorare, that Mom taught us—echoing St. Paul says, "Love is sufficient of itself, it gives pleasure by itself and because of itself. It is its own merit, its own reward. Love looks for no cause outside itself, no effect beyond itself. Its profit lies in its practice." Its profit lies in practice. That's to say, it must be lived.
The strength to live this love will come from God, and from our traditions. Kristin and Kevin, do not forget who you are and where you have come from. Our families, who have handed on to you a true love for family life and a reverence of tradition, have given to you that which will be your strength.
St. Bernard says, "Love is a great thing so long as it continually returns to its fountainhead, flows back to its source, always drawing from there the water which constantly replenishes it." Kristin has returned here, to the fountainhead, to the church where she was baptized, to our family's spiritual home and Kevin, you have accompanied her on this homecoming. I beg you, always return to the blessings and joys of this day. The graces given by God today, and the love of your family and friends will never fail you.
"No greater blessing can come to your married life than pure love, loyal and true to the end." May the love in which you join your hands, hearts, and very selves today never fail, but only grow deeper and stronger as the years pass.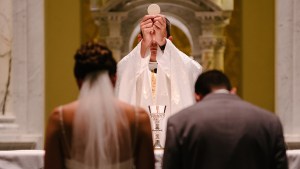 Read more:
6 Ways the Eucharist changes you like a marriage does