This does wonders for a young child's intellect and language skills.
What can God do in your life with one Bible verse a day?
Subscribe to Aleteia's new service and bring Scripture into your morning:
Just one verse each day.
Click to bring God's word to your inbox
My son Isaac is 20 months old, and he never stops talking. This is a new development — he's always been a calm and quiet child, and up until the summer he didn't talk much at all. He preferred to communicate by pointing and adding in the occasional "please."
But over the summer when everyone was home, his pointing and quiet "please" didn't quite make its mark in the conversational chaos. So he began talking more and more, first relying on names to get our attention, then moving to phrases, and finally talking in sentences. By the end of the summer he was telling full stories, complete with gestures and expressions.
Unfortunately, with the school year starting, our time together is busier. Evenings are a rush of homework, athletics, lunch-making, dinner, and bathing. With the oldest four needing papers signed and homework checked, Isaac too often gets lost in the mix — which is why this article from CBC was a much-needed reminder to make time for my curious, chatterbox toddler.
A study published this week in Pediatrics found that toddlers with parents who spend lots of time listening and chatting with them are more likely to have better language skills and higher IQs a decade later than youngsters left hanging in silence. "If you knew that children who were fed a certain nutritional diet at age two were not only far healthier as toddlers, but much more likely to be in a healthy weight range at age 12, you'd want to pursue those findings, wouldn't you?" said study author Jill Gilkerson, senior director of research and evaluation at the LENA Foundation, a non-profit charity in Boulder, Col. "Conversational turns are that diet, that nutrition, for the brain."
When I was a toddler I talked nonstop. I still remember my mom listening patiently to story after endless story, never letting her attention wander enough to give me the half-distracted "hmmm" or "oh yeah?" that I often fall back on. There's not a doubt in my mind that her willingness to engage in my mostly nonsense conversation is largely responsible for shaping my skill with and interest in language, words, and writing.
Similarly, I'm certain that Isaac's conversational evolution occurred over the summer because that's when we had the most time together — time to fill, unscheduled time that could be spent parsing out the intricacies of a toddler vocabulary. Time, too, for Isaac to practice the art of conversation, and for that practice to stimulate his mind.
A week before school started, Isaac shocked me by counting to 15 at the breakfast table. I had no idea he could count at all, much less to 15! But he rattled the numbers off without blinking, and was able to repeat them.
A week later I began to realize that he was naming the colors of objects — and naming them correctly, without any concentrated effort having gone into teaching him his colors. He just learned them, like he learned to count, like he learned to have a conversation — all at once, without warning, seemingly effortlessly.
Of course it wasn't without effort, but the effort went into conversation. Consistent engagement, rather than attempts to teach, were the key in opening Isaac's mind up and allowing him to grasp all kinds of things, from words to numbers to colors.
No matter how busy life is, it's vital that we moms make time to have conversations with our toddlers — even when they seem like nonsense. Just like we would never stop feeding them because we're busy, we can't stop feeding their minds when time is short — after all, we're laying the foundation for their future.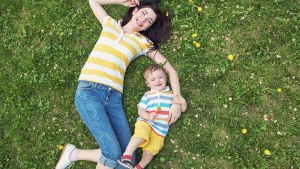 Read more:
Why quality family time isn't about entertaining your kids