When a man leaves the priesthood -- or gets kicked out -- this is what happens, and what doesn't happen
Whenever I teach a class on the sacraments, there's one point in particular that gets brows to furrowing. It's not when we talk about how Christ can be truly present in the Eucharist though it still looks like bread and wine, nor when explaining how what's known as perfect contrition brings forgiveness of your sins even without going to confession. It has to do with Holy Orders.
When I teach that ordination leaves an "indelible mark" on the soul (as baptism does), so that one remains "a priest forever," the quizzical looks appear and someone inevitably asks: "Wait … but what if they leave the priesthood, or get kicked out? They're still a priest?"
"Yes!" I tell them, which only seems to add to the confusion. Then the follow-up questions: "Then what does it mean to 'leave the priesthood?' Could he still say Mass, and hear confessions, and all that?"
Read more:
Not even the greatest sin can wipe off the mark baptism leaves on our souls
Well, here's where it gets a little complicated. Let's start out with this: There's a difference between having the ability to do something, and the right or responsibility to do that thing.
Let's take driving as an example. After studying the rules of the road and practicing my turns and braking, I now possess the ability to drive. Nothing can take that away from me, short of a sharp blow to the head that has a specific and unlikely effect on my memory. But if I egregiously violate the rules of the road, I can have my license taken away, and my right to drive revoked. I still possess the ability, but I no longer have the right to drive.
Or say that I am a police officer who leaves the force, or is removed for some crime. I still possess all of my knowledge of police procedure and my know-how about apprehending criminals, but once I am no longer a part of the police force, I have neither the right nor the responsibility to do those things. I would not be justified in taking a suspect in for questioning, nor would I be required to. And the police force would no longer have the obligation to provide me a salary or health insurance.
The laicization of a priest is a bit like that, albeit at the soul-level. (The technical term is "dismissal from the clerical state.") The man still remains a priest in his very being, so that the sacred power given him at his ordination is never and can never be lost or given up or taken away. But his right and his responsibility to exercise that sacred power and to live according to the priestly state is removed. This can be as a punishment for some serious crime, or for some other grave reason, which can be voluntary.
To give just a few examples: Priests are bound to pray the Liturgy of the Hours daily, are strongly encouraged to say Mass every day, and are required to hear confessions whenever the faithful reasonably request it; they are forbidden from holding public office. When a priest is laicized, he no longer has any of these responsibilities or restrictions.
It also means that the Church no longer has the same sort of obligation to the now-laicized priest. The Church does not owe him a living, or medical care, nor does it have any further legal responsibility for him.  
(Interestingly, loss of the clerical state does not automatically remove the obligation of celibacy. That is granted separately by the pope himself, as stated in Canon 291.)
Read more:
A prayer for priests written by Mother Teresa
A word about how laicization is different than the analogies given above. When I spoke of driving or being on the police force, I was speaking mostly of knowledge — knowledge that remains even if the use of that knowledge cannot be used. But the mark of the priesthood is not about learning certain skills. Even if a person has the entire Mass memorized and knows how to say it exactly right, that knowledge does not turn the bread and wine into Christ's body and blood. It is the power given through the sacrament of Holy Orders, an entirely different thing than the knowledge of how to say Mass. The same is true for all of the powers of the priesthood. Priests do have to have knowledge of how to perform the sacraments, but it is not that knowledge that enables them to do what they do.
So what would happen if a laicized priest were to go into a Church, pick up the Roman Missal, and celebrate Mass? Would it "work"? Would Mass happen? Yes it would: it would be valid, though not licit—that is, the sacrament would truly be present, but that celebration would be against Church law, and the laicized priest would sin in doing so.
What if you were to go to the laicized priest and ask him to hear your confession? Would it "work"? No. The difference between Mass and confession, why the former would happen but the latter would not, is that for a confession to be valid, a priest must be given the specific faculty, or permission, to hear confessions from his bishop (Canon 966.1), and a priest loses that faculty if he's laicized. However, the Church does say that, for the good of souls, a priest without that faculty—even a laicized priest—can validly hear confessions in an emergency situation. (Canon 986.2)
These facts may strike us as odd, but they testify to the reality that the Sacrament of Holy Orders truly effects an ontological change, so that a man becomes "a priest forever, in the line of Melchizedek."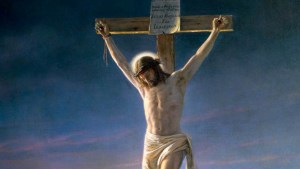 Read more:
What is "atonement?" Who does it? And what does it mean for me?