Jesus doesn't choose to calm every storm; instead he gives us his mother.
What can God do in your life with one Bible verse a day?
Subscribe to Aleteia's new service and bring Scripture into your morning:
Just one verse each day.
Click to bring God's word to your inbox
I was, some years ago, alone in a foreign country. Terribly alone, as it seemed that day. I had gotten some hard news at the end of a hard few weeks, and as I sat in an empty church attempting to pray, my meditation turned into more of a pity party than anything else. All I could see was what I didn't have. I didn't have a home or a family or anyone who loved me best of all.
Whether or not any of that was true is irrelevant. What mattered at the time was that I believed it. As the church gradually filled to what passes for a Sunday congregation in Scotland, I wallowed.
The beginning of Mass didn't break me out of my funk, nor the Gospel, nor even the Eucharist. As I knelt in the pew after Communion, a sob escaped my lips. "Jesus!" I prayed. "I'm just wandering! I'm just wandering, Lord!"
At that very moment, I heard the words the congregation was singing, words to a song I'd never heard before:
Mother of Christ, Star of the Sea, pray for the wanderer. Pray for me!
It was like the Mother of God had reached right down out of heaven, pulled my head to her chest, and kissed me on the forehead. "You may be wandering, dearest," she seemed to say, "but I'm right here beside you."
It was the beginning of my devotion to Mary, Star of the Sea. Not being a sailor, I'd never thought much of this title of Mary, but I began advocating the name Stella for babies, even calling my new car Stella Maris and buying her in a lovely Marian blue.
The image is, of course, a nautical one. Mary is our guiding star when we're adrift, the light that leads us back to Christ. Of course, Jesus is the light of the world, Mary just a star. Jesus calmed storms; the Stella Maris just guides us through them.
But it's important to remember that Jesus doesn't calm every storm. St. Paul was shipwrecked three times, after all. Even in the Gospels, Jesus sleeps through the first part of the storm he ultimately calms, a storm so powerful that Matthew describes it using the word "earthquake." It's the same word he uses at the moment of the crucifixion—and Jesus slept through it.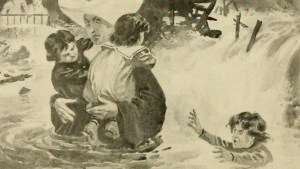 Read more:
The heroic nuns who lost their lives in the Galveston hurricane of 1900
That was one supernatural nap.
The only way he slept through that storm was by a miracle, to show us that sometimes when our lives are out of control, it seems like he's sleeping. Sometimes we cry out to him and still the storm rages on. Sometimes what we need is not to be rescued but to be strengthened to weather the storm.
In those moments of fear and confusion, even when God himself seems distant, there is still a glimmer of light. He has given us his Mother, the Star of the Sea, to call wanderers back to him.
Sometimes the reason he seems distant is that we've run from him. Sometimes we've shut him out of our lives, even out of our prayer as I did on that August day in Edinburgh. But sometimes we're clinging to him desperately as the world spins around us, wondering if it's the Church that's gone wandering. And news cycle after news cycle seems bent on prying him from our grasp as we try to weather the storm that has become a hurricane.
If recent news has made you feel far from Christ; if your personal life is a shambles and you can't seem to find your way out of the mess you've made; if you've fallen away from practicing your faith, or even if you've run; if you worry that the Church itself is being shaken from the rock it was built on, ask Our Lady, Star of the Sea to be a light in the darkness to lead us all to our heavenly home.
On September 27th, her feast day, may Mary Stella Maris intercede for all who wander, for all who feel alone, for all who've run from the loving arms of Jesus and all who've drifted. May she pray for our Church, that, guided by her love, we may weather every storm and sail with our hearts fixed on heaven.
~
"As mariners are guided into port by the shining of a star, so Christians are guided to heaven by Mary" -St. Thomas Aquinas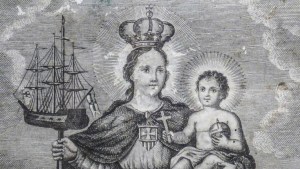 Read more:
Why Buenos Aires has its name: The miracle of a chest lost at sea