It really is possible to change your worst habits ... if you approach it well.
What can God do in your life with one Bible verse a day?
Subscribe to Aleteia's new service and bring Scripture into your morning:
Just one verse each day.
Click to bring God's word to your inbox
Bad habits are "bad" for good reason. They're destructive and embarrassing behaviors we fall into even after promising ourselves that we wouldn't. Bad habits keep us from reaching our full potential and create a lingering defect in character that can drive us — and others — crazy.
I guess I'll go ahead and confess to the world all of my bad habits. I speak before I think, or if I do think, it's always about myself and rarely anyone else. I'm addicted to coffee. I correct people when they use grammar wrong and get pedantic and dismissive to the point that it wouldn't be inaccurate to describe me as a total snob. I don't like vegetables. I'm impatient. If I see a sink full of dirty dishes in the kitchen, only once in a blue moon does it occur to me that perhaps I should wash them. I think horrible thoughts about other people.
I used to be worse.
I don't think it's bragging to look back and be moderately pleased at halting baby steps towards self-improvement. Partly this is due to growing up, gaining new perspectives, and being humbled by failure. Mostly, though, anything I've accomplished has been with lots of advice, going to confession, and good spiritual direction.
The real key to breaking bad habits is to have a process. It's very easy to decide to improve; it's difficult to actually make a permanent change. So often we have epiphanies and get energized, then we make ambitious vows to live a new-and-improved lifestyle. It lasts for maybe a week before slipping back into old habits. The reason why is because those bad habits are the result of a lifetime of practice. They can't be changed in a week through sheer willpower, and eventually old patterns reassert themselves.
We need a model of habit formation that is realistic and practical. Often referred to as a "Stages of Change" model, it acknowledges that small changes eventually add up and that relapse is a normal part of the process.
Here are the steps and how to apply them.
Pre-contemplation
At this stage, we may not even realize that there's a problem and often it's an unpleasant surprise to discover it. For instance, I've had people tell me in the past that they found me arrogant. I wasn't cultivating arrogance on purpose, and didn't know this was an issue, but in the end I had to admit the feedback was accurate. When these flaws become apparent to us at this stage, it's important that we don't justify them. We need to deal with them.
Contemplation
Having acknowledged the bad habit, the next step is thinking about it in detail. This is helpful to get motivated. I had to ask myself some hard questions about how I treated other people, how I responded to them, and if perhaps a good dose of humility might be just what I needed. As we think about the bad habit, the cost of not addressing it becomes more apparent. All bad habits affect those around us, harm us, and inhibit our happiness. It's important that we see this clearly.
Preparation
This is where it gets tricky. We now know the bad habit and how it affects us, but how to change? Careful preparation is key. Set a clear goal and mark out a series of small steps that will help achieve that goal. For instance, if I have a bad habit of always talking about myself, I can remind myself before meeting a friend that I will let him talk first and I will engage in the topic instead of twisting it to myself. I can remind myself what's going on in his life and what he might like to talk about. Afterwards, I can review how I did. It doesn't work to simply make an abstract promise to stop talking about myself. There need to be small, concrete steps on the way to the larger goal.
Action
Once the plan is in place, it's time to take action. Take each step one at a time. Be patient and don't rush from one to the next before being ready. Acknowledge each small step as progress and go ahead and feel a sense of accomplishment about it. Positive feedback and attainable goals are vital to ongoing progress.
Relapse
The final step is … relapse? Yes, let's be realistic. We're going to fall back into bad habits many, many times before any change becomes permanent. Acknowledging this is important, because if it's a natural part of the process, it won't break our self-confidence and desire to continue implementing the new, good habit. It may be a process that takes a lifetime. That's okay, because the key is to make progress, to be self-aware, and always strive for the best.
The Stages of Change model is a well-known clinical method to habit formation. I can't help but notice, too, that it has a lot in common with going to Confession. For me, this is how the process has been applied, and all of my progress has taken place since becoming Catholic eight years ago. When I'm preparing for Confession, I go through the Contemplation stages. For Preparation and Action, I stay aware of near occasions of sin and follow the advice of my confessor. Relapse is a constant part of the process, which is why I go to Confession frequently and receive forgiveness.
However you decide to apply the model, I can promise you that it really does help.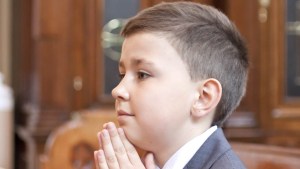 Read more:
How one mom got her priest on board to make confession a family-friendly affair