We all get embarrassed sometimes; it's unavoidable, but the fear of it can be conquered.
What can God do in your life with one Bible verse a day?
Subscribe to Aleteia's new service and bring Scripture into your morning:
Just one verse each day.
Click to bring God's word to your inbox
I clicked away from the video, and said to myself, "Ha. That would probably work, but there is no way I'm giving it a try."
It was Jia Jiang's TED talk "What I learned from 100 days of rejection," in which he recounts his personal challenge to himself to try out a game called "rejection therapy," where, as he explains, "… the idea is for 30 days you go out and look for rejection, and every day get rejected at something, and then by the end, you desensitize yourself from the pain."
He'd been publicly humiliated in grade school, and he realized the fear of being rejected yet again was stopping him from living his life. So every day, he made himself ask somebody something he was sure would be met with a big fat no. Borrow a hundred dollars from a stranger. Ask the waiter for a "burger refill." Totally cringeworthy stuff.
He did become less afraid of rejection, and he also learned to fight harder for what he wanted. By the end of his experiment, the threat of potential rejection didn't paralyze him like it used to. It absolutely worked — but who on earth would brave enough to do this exercise?
Not me. When I was a teen, I remember thinking that if I could have one wish, it would be that I would be quick-witted, so I wouldn't keep putting my foot in my mouth. I didn't want to be beautiful, or brilliant, or famous — I just wanted to not embarrass myself so badly, so often.
So I'm watching the TED talk, and laughing my head off, but at the end, I declared there was absolutely no way I was going to try it. I have enough trouble in my life, without going looking for my least favorite thing. Not going to happen.
Except, I accidentally did end up trying his theory, although I hadn't intended it. Off the top of my head, there was that time I mixed up my father-in-law and his brother at a party once. (I'm bad with faces.) All the important emails I've accidentally sent off half-finished, that vivid moment at a friend's dinner when I looked down to find myself splattered with newborn poop … And although it hasn't made me immune, it really did end up making my periodic faux pas and embarrassments sting a lot less.
Jiang's theory is based in a universal truth, after all — that you can desensitize yourself to anything, through practice. Luckily for me, I embarrass myself plenty, so I get lots of practice.
And it turns out, nothing seems quite so big and scary and terrible once you're used to it — not even humiliation. Even if you don't go looking for it, thank goodness. It all depends on your attitude towards the experience. If you treat every embarrassing thing you do like the end of the world, probably nothing is going to change. But if you can muster the presence of mind to say something like "Oof. That was awful. But here I am, and life goes on," you're doing yourself a bigger favor than you think. You're letting yourself get used to embarrassment. You're accepting it as a part of life, and reminding yourself that if it hasn't killed you yet, it might not be so bad.
The only way to get over the fear of embarrassment is to work on the fear part. Embarrassment is unavoidable, but fear can be conquered. Remind yourself that every time you mess up is part of the process of overcoming that fear, and suddenly the mistake doesn't seem quite so bad.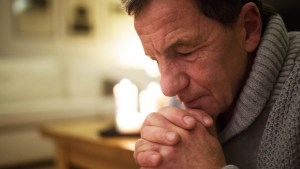 Read more:
An often forgotten attribute of God that takes the fear out of the spiritual life