Simple and affordable, these tech innovations are helping to make good health "a universal right."
What can God do in your life with one Bible verse a day?
Subscribe to Aleteia's new service and bring Scripture into your morning:
Just one verse each day.
Click to bring God's word to your inbox
After watching her father, who suffers from Parkinson's disease, struggle to walk, Lise Pape decided to create a device that could help him control his footsteps better. The problem he was experiencing is referred to as "freezing" — the inability to put one foot in front of the other while walking. She noticed that her father's wife would guide him by placing her foot in front of his, which gave her the idea for the Path Finder, a simple gadget that attaches to the user's shoes that makes a laser projection as a cue for the next step.
"People with Parkinson's tend to be able to walk quite well in staircases, and on steps, whereas they tend to struggle more on a flat floor, with no kind of pattern to it," Pape, who is from the UK, explains. "The wearer can use the laser on the floor as their kind of step, so instead of having the step on a staircase they have this line they can walk across, and it helps them to initiate walking."
Pope Francis has said, "Health is not a consumer good but a universal right," and inventions like Path Finder are helping to bear his words out. Artificial intelligence, connected devices, and data software — along with the ingenuity of people who want to make a difference in the lives of people struggling with disability — are leading to a host of new, wearable gadgets that are accessible to the masses.
Path Finder has been in the European market since June 2017, and is about to be available in the United States in a few months. While Pape explains that getting a new product in the health system is a very long process, and not easy, there's also a lot of interest on the part of pharmaceutical companies to invest in connected devices that can be used to supplement their portfolio of drugs. Pape was motivated by this more holistic approach to healthcare.
But the most rewarding part? The feedback from patients — hearing that they are feeling better, and that her product is helping them. "One particular case is a younger guy in his 40s in the UK who had Parkinson's very young and it stopped him from doing many things, so he felt quite isolated. One day he sent me a screen shot from his phone of his step count and he wrote 'I have not walked this far for many, many years.' And then he sent a photo of him on top of a little mountain in the UK with a friend. It helped him live more of a normal life, and it's so rewarding to hear these stories, that's what motivates me."
Pape is already working on launching her newest product, Path Feel, a connected device meant to improve balance through vibrational feedback to the soles of the wearer so they can feel the floor — helpful to those with Parkinson's, but also the elderly and people with diabetes and multiple sclerosis.
Here's a look at other cutting-edge tech that's leading to better lives:
Helping the blind through assistive technology
OrCam MyEye 2.0 is wearable equipment that can be attached to any eyeglass frame, so it'll assist the user to read texts, recognize faces, identify products, and detect colors, among other things. The device has a frontal camera and external speakers, so the patient can touch a text in a newspaper, book, menu, sign, product label or screen and MyEye will read it out loud. It responds to hand gestures, such as pretending to read a watch, and it'll tell the user the time and date. It can also learn faces and tell the user the name of the person standing in front of him.
Preventing falls one step at a time
https://twitter.com/Evone_shoes/status/1000422305019957248
The E-vone company just presented the first smart shoe that detects falls and send alerts to the wearer's emergency contacts. These sneakers or boots have a small device inside the sole that senses movement, and includes GPS localization and an antenna, so an alert and location can be sent to a caregiver in the event of a fall or abnormal movement. The shoes will vibrate when the alert has been received, reassuring the patient that someone's coming.
Fighting chronic pain without using drugs
Oska Wellness designed a device to relieve pain through electromagnetic pulsations. Oska Pulse uses these electromagnetic fields to reduce inflammation, increase circulation, repair injured cells, improve mobility, and relieve pain directly at the source. The way it works is by increasing blood flow to specific muscles to alleviate pain caused by several health issues, such as fibromyalgia, arthritis, or herniated discs, to mention a few. Some of the body areas that have been found to have the best results are the upper and lower back, knee, neck, hip, ankle, shoulder, hand and foot pain.
Avoiding allergies when eating out
Dealing with food allergies can make it complicated to eat out. So Nima created the portable Nima Peanut Sensor, which tests food for peanuts or peanut residues. You put a morsel of food into the test capsule, then enter it into the sensor and press start. The device will reveal whether the food is peanut-free or not. At four inches tall, it's portable and is charged via USB cable. The company also has a gluten sensor that works the same way.
Moving paralyzed hands once again
People with paralyzed hands due to spinal cord injuries or stroke can move them again with NeoMano — a robotic glove used on three fingers with titanium wires connected to a controller. The controller allows to grip and release, to regain use of the hand in small tasks, such as picking a small object, gripping a door knop, or holding a cup, for example. The company that develops digital rehabilitation solutions for patients who have suffered from strokes is still raising funding for it to be available in the market as soon as possible.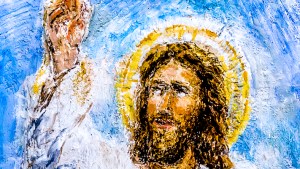 Read more:
In the midst of this busy health care laboratory are mysteries that go beyond science