Try these lifestyle tips from cultures that topped the World Happiness Report list.
What can God do in your life with one Bible verse a day?
Subscribe to Aleteia's new service and bring Scripture into your morning:
Just one verse each day.
Click to bring God's word to your inbox
Every 12 months or so, when the stacks of year-end rankings are published, we receive the same, somewhat bewildering news: Denmark is reported to be one of the happiest nations on earth.
Denmark? Hamlet's Denmark? The place where, for six months of the year, the sun barely rises above the horizon? A nation with one of northern Europe's highest levels of alcohol consumption and where depression and mental illness are prevalent? And never mind the fact that the midday meal frequently consists of liver paste smeared on rye bread … This, the happiest place in the world?
There are many global "happiness" report cards and the most generally accepted one is produced by the United Nations Sustainable Development Solutions Network (SDSN). Released annually since 2012 and called "The World Happiness Report," this study asks respondents to evaluate their sense of personal happiness and looks at several predictors of well-being, including freedom to make life choices, healthy life expectancy, and social support.
Though Denmark has topped the charts before, in more recent years, it's actually not exactly the "happiest" place on earth: it came in third place. The real winner, the U.N. says, is … Finland. Norway is second. (The United States lands in 18th place in the 2018 report, and the the United Kingdom at #19.)
But despite Finland's and Norway's top spots on the list, it is always the Danes who are featured in news reports. This probably has something to do with the fact that almost everyone likes the novelty of adding a new, unfamiliar (but really quite wonderful) word to her vocabulary. And the Danish have such a word — and it's nearly always mentioned in happiness rankings coverage.
Why are the Danish so content? Well, it's because of their pursuit of "hygge."
Pronounced "hoo-ga," hygge is usually translated into English as "coziness." Blogger Anna Lea West writes that hygge is "coziness of the soul." West says that it "is the concept of being present … of creating a warm, comfortable atmosphere that makes us feel rooted and connected. It's about our behavior towards one another, and the coziness and shelter found through reciprocal giving and receiving. It's the art of creating intimacy, camaraderie and contentment all in one — and it often occurs around a candlelit table, while sharing good food, good drinks and good conversation."
Okay, then: three cheers for hygge!
So what can we adopt into our own lives, taking lessons not only from the Danes, but other citizens in the global happiness "Top 10"?
Here are five recommendations from around the globe for how we can nurture a sense of well-being and "coziness of the soul":
1. Loosen up
Australia comes in at #10 in the most recent happiness ratings. Known for being laid back ("No worries, mate!"), Australians have a reputation for not taking themselves or their lives too seriously. Perhaps they have mastered the art of self-forgetfulness. It's not about thinking of ourselves as less than we are (or as unworthy), but maybe it's just about thinking of others, and connecting with our communities, more.
2. Be generous
Canada is the 7th happiest nation in the world and also rated as one of the most generous countries. Its Prime Minister, Justin Trudeau, urges Canadians to welcome refugees and, generally, to practice kindness and compassion.
Whether you are a thought leader in your workplace, or the person responsible for setting the tone in your family's culture within the walls of your own home, you can prize and promote generosity.
3. Go outside
Most — if not all — of the happiest countries are those where residents hike, bike, and otherwise explore the beautiful outdoors.
When you're feeling a distinct lack of well-being, take a walk with your dog around the park or just take a stroll out in nature — it's very likely you'll return with an increased sense of balance, health, and appreciation for the beauty of nature. Picture it: geese flying above you, in their odd formation. The feel of frozen gravel beneath your feet. Squirrels rushing up tree trunks. It's all a good reminder that there is beauty, silence, and whimsy just outside the door. You just need to get outside and see it.
4. Eat chocolate
Switzerland is the 5th happiest nation in the world. I'm not saying this designation is due to the amazing Swiss chocolate that this country manufactures, but there's no reason to rule that aspect out either.
So, unless a doctor's orders or your Lenten discipline precludes it, I suggest indulging in a bit of chocolate to increase your sense of daily wellness.
5. Bring on the cozy
Okay, just because they are "only" in third place doesn't mean that the secrets of the Danes aren't worth copycatting.
Ask yourself: What does "cozy" mean to you? For most — if not all — of us, cozy doesn't involve embarking on a large expenditure of cash. It's about being mindful of what feels most comforting to you. Fuzzy socks? A warm blanket tucked around you and your kids? A favorite 1950s musical, watched for the 10th time? A fire in the fireplace? Tea in a favorite mug?
Happiness and joy are two different things — and not every season of our lives (nor that, I should add, of the typical Dane) is a happy one. We trudge through long winters. We find ourselves emotionally stranded in places that feel distinctly un-cozy. But there are times that reminders to be easy on ourselves, to indulge in the simple pleasure of a walk to the park or a piece of excellent chocolate, can connect us, again, to a sense of well-being and gratitude.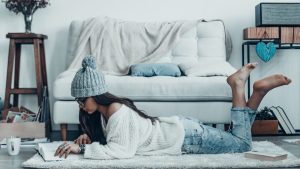 Read more:
Why "nesting" and "hygge" are more than just trends