Barring extreme cases, there's reason for the "vocational enthusiasm" of Thomas Aquinas to apply to married couples.
Need an idea for Lenten almsgiving?
Help us spread faith on the internet. Would you consider donating just $10, so we can continue creating free, uplifting content?
Make a Lenten donation here
I am happy to say I have one religious vocation to my credit. You'll be less impressed when you hear how it happened.
I was a graduate student in philosophy at the time. While having drinks one evening with some of the other graduate students, the conversation turned to vocations. I took the opportunity to mention some bracing remarks from St. Thomas Aquinas to the effect that if the devil himself induced someone to enter religious life, it would still a good idea for that person to enter! Everyone laughed and shouted in horror, but as I later learned, one has to be careful what one says to graduate students in philosophy (especially over beers).
After our conversation, one of the other students went and looked up the references in the works of St. Thomas, considered the matter himself, decided he agreed with the saint, went off to join a monastery, and now seems to be living happily ever after. If that monk gets canonized a saint, I will have hit the Catholic jackpot!
Lately, I have been wondering whether it would also be appropriate to apply the words of St. Thomas to the vocation of marriage. Since the Second Vatican Council, much emphasis has been given to marriage as a path to holiness, a particular means by which the universal call to holiness can be achieved.
Should we, then, urge couples to sacramental marriages with that same sort of wild enthusiasm that St. Thomas had for the consecrated life? Should we say of marriage, as St. Thomas did of the entrance to religious life, that "long deliberation is not to be had in these things"?
One the one hand, marriage is a sacrament and it was Christ himself who elevated it to this status. It confers grace, and thus benefits both the couple and the Church as a whole. Specifically, couples who cooperate with the grace of the sacrament are strengthened by Christ's own love, a love that infinitely exceeds the love they could ever have mustered for one another merely through their own natural powers. One might almost speak of sacramental marriage as a "love superpower." And one thing is very clear: The world needs more of such superabundant love.
Yet, on the other hand, there is the utter heartbreak of divorce—and the hearts that are most broken are those of the couple's children. In my line of work as a director of marriage and family life, we often draw attention to how pornography, contraception, domestic violence, and abortion greatly increase one's risk of divorce. But it is also impressive, in a negative sort of way, to notice that the chain of influence runs the other direction as well. In so many cases, there is a path that can be traced from these sins back to childhood wounds resulting from a divorce. Suffice it to say, the world needs less of the emptiness and pain unleashed in divorce.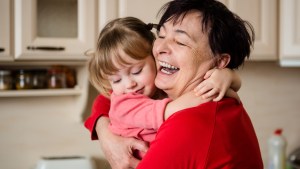 Read more:
I've been witnessing intergenerational joy, and it's changing me
Given the complexity of the situation—the possible rewards, coupled with great risks—I do not think we can recommend the sacrament of marriage to unmarried people without qualification. In fact, a sign of an appropriately rigorous program of marriage preparation is that it will help some couples discern that they should not marry.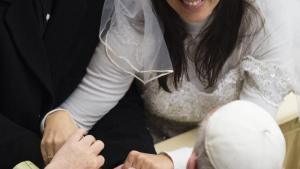 Read more:
Pope Francis: Preparation for Christian marriage can't be just a few meetings
However, I would argue that there is at least one way in which we can apply the "vocational enthusiasm" of St. Thomas to the vocation of marriage.
St. Thomas made his surprising recommendation about joining the religious life, even if prompted to do so by the devil, because there was no doubt about the goodness of the goal. It was Christ himself who proposed the evangelical counsels of poverty, chastity, and obedience that are the defining marks of the religious life. As St. Thomas notes, the divine origin of these counsels leaves rather little room for disagreement as to their objective value for human beings: "he who doubts about this . . . disparages Christ."
But Christ teaches with equal authority on the subject of marriage, especially the permanence of marriage: "What God has joined together, no human being must separate" (Matthew 19:6). Here, too, the goodness of the goal is not in doubt. Again, it was Christ himself who elevated the natural reality of marriage into a sacrament. It was Christ himself who reminded us of the original plan of the Father that marriage should last until death. Perhaps we should say, then, adapting the words of St. Thomas, that if the devil himself induces someone to stay in a sacramental marriage, "this would be a good work." With the exception of extreme cases such as domestic violence, our advice to married couples should be to stay married, come what may.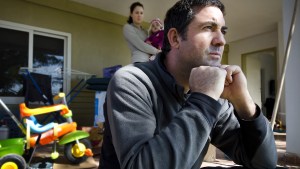 Read more:
4 Reasons to stay put even when your marriage is on the rocks
Here, too, religious life offers a helpful analogy. An old Benedictine monk once gave me a pop quiz of sorts, asking me: "What is the goal of monastic life?" I began to stammer out some abstract spiritual statement about deepening one's life in Christ, but he quickly cut me off. The monk pointed instead to the monastery's graveyard: "The goal of monastic life is to be buried right there."
Achieving the lofty goal of growing in the love of God is, in the ordinary course of things, contingent upon the monk's commitment to stability, to persevering in his vocation to the very end. The same thing could be said of the sacrament of marriage. We could speak of union and procreation, or of being a sign of Christ's love for his Church—but more simply, we can say the goal of marriage is to die wearing one's wedding ring.
Read more:
This patroness of mothers and families is proof that marriage is a path to sanctity