Parents are mentioned specifically in a section that focuses mostly on clergy. It's guaranteed to lift your spirits as you drudge through one more load of laundry.
What can God do in your life with one Bible verse a day?
Subscribe to Aleteia's new service and bring Scripture into your morning:
Just one verse each day.
Click to bring God's word to your inbox
The primary reason for the Church's existence is the salvation of souls. Sanctification, or the process by which people become holy and grow in their union with God, therefore is front and center. Everything the Church does is for this purpose, and the sacraments, means of sanctifying grace, play a key role in this process.
The Church calls the manner in which it carries out this mission its "sanctifying function," which consists primarily in the sacramental life and liturgical worship of the Body of Christ. The majority of Church writings on the sanctifying function make brief mention that all Christians play a role in this sanctification, and then dwell at length on the particular roles of the clergy – bishops, priests and deacons — due to their unique role in the liturgy and sacraments.
This association is natural, given the connection the Church makes between its liturgical and sacramental life and the priesthood of Jesus Christ. However, it also makes it all the more noteworthy that, embedded in the section of the 1983 Code of Canon law on the sanctifying office of the Church, another particular group of people gets special mention: parents.
Canon 835 states:
Parents share in a particular way in this function by leading a conjugal life in a Christian spirit and by seeing to the Christian education of their children (canon 835§4).
The Code of Canon Law doesn't mince words. If something is in the code, it's there for a reason; it's important.
So if clergy participate in sanctification very directly through their priesthood, and all lay people participate by virtue of baptism, why is a special line dedicated to parents?
I don't know, but here's my guess:
We need the extra reminder that diapers and laundry and baking and lullabies, and all else that comes with parenting kids of different ages, aren't simply necessary tasks, but a real and worthy way of worshiping the God who made us and sustains us.
Parenting in the home is sometimes analogously compared to monastic life because of the sense of community, routine and sacrifice. And for good reason. Everything we do as parents doesn't just affect our individual families. It's part of what makes the entire Church holy.
As a parent myself, I find this gives needed perspective.
Yes, we worship God in Church on Sundays, and yes, it's important to find time to honor God within the home through family prayer as well. But we also really and truly worship God, not only for ourselves, but for the entire Body of Christ, through fulfilling our role as parents in daily life. The percentage of our time dedicated to the nitty-gritty reality of family life, which is most of it, is part of continuous prayer the Church lifts up to God.
The term ecclesiola, or "domestic church," has been used in reference to the family since the early Church. The family isn't just a domestic church because it is the nuclear cell of society and therefore a "building block" of the greater Church.  The family is truly a microcosm of the entire Church and, as such, lives out the priestly, prophetic and kingly roles as part of its mission.
For those of us who find ourselves in the state and time of life in which parenting largely defines not only where our time goes, but also where a lot of our mental, spiritual and emotional energy go, knowing that the Church sees and appreciates the significance of what we do is encouraging.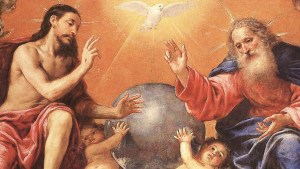 Read more:
The Trinity's tips for your family