The Italian singer and his son duet "Fall on Me" for the first time here.
Matteo Bocelli says there's nothing "uncommon" about singing with his dad, Italian singer and record producer Andrea Bocelli, who has become world renowned for his elegant angelic voice. "I've been singing with him since I was a little boy," the 21-year-old Matteo recently said on a British TV program, where . It's those live performances in front of an audience that still make him nervous, even though his flawless tenor voice seems to have made him destined for the stage.
This past fall, Matteo joined his father for the first time in recording the single "Fall on Me." Bocelli says that he and his son share a love for expressing themselves in music, and their duet speaks to the bond of a parent with his child.
Partially blind since his childhood, Andrea Bocelli became completely blind after being struck in the eye at a football game. Though his many operations were unsuccessful in restoring his sight, he has found peace and solace in music. He now shares this love of music with his son, who recently started taking his music career to the next level in 2015. Matteo is currently a voice student at Lucca Conservatory.
Bocelli wrote , "Anyone who is a parent, anyone who knows the precious responsibility of being a mother or a father, will fully grasp the meaning of this piece. 'Fall on Me' is the first time I have duetted with my son Matteo Bocelli."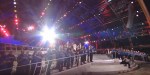 Read more:
2018 World Meeting of Families to feature Andrea Bocelli and 'Riverdance'