She isn't sneaking anyone into Heaven, but she is finding ways to bring God's mercy even to the most horrific sinners.
What can God do in your life with one Bible verse a day?
Subscribe to Aleteia's new service and bring Scripture into your morning:
Just one verse each day.
Click to bring God's word to your inbox
A few weeks ago, a friend and I were talking (as I seem always to be talking these days) about the crisis in the Church. Since her 10-year-old was in the room, we were using vague terms and addressing the matter obliquely, but he sensed that something was amiss and asked what we were talking about.
In very delicate terms, we explained that some priests had hurt children but that we were working to make sure that such a thing would never happen again.
"Were those priests sick?" he asked.
"Well, yes," his mother replied. "Some of them were sick, and that's part of why they chose to do what they did. But it was still their choice."
"But Mom," he replied, concerned, "the Catholic Church is for everyone! It's not just for people who aren't sick."
And I looked at this innocent child, this sweet boy who heard that priests had hurt children and responded with concern for the priests' souls, and asked God to give us all hearts as merciful as his.
Because as much as I want to see justice served in this world, I truly do want mercy in the next, even for the perpetrators of the most heinous, sacrilegious acts of abuse. I don't want anyone, anywhere to go to hell.
I'm speaking from a privileged place. I haven't suffered clerical abuse, nor have my closest family and friends. I have no images burned into my mind, no graves to visit of loved ones who took their own lives rather than live with the memories.
But I worship a Savior who hung in anguish, looked upon a jeering crowd of accusers and torturers, and begged the Father to forgive them (Lk 23:34). I worship a God "who did not spare his own Son but handed him over for us all" (Rom 8:32), for the immaculate among us as well as the abominable. And I stand as the daughter of a Mother who rejoices to hold the title "Refuge of Sinners."
Mary has been revered as the refuge of sinners for over a thousand years, and it's likely that this concept has been misunderstood for nearly as long. When we think of Mary as a refuge, we may be inclined to imagine the most vile of men hiding under her mantle, creeping past the pains of purgatory and stealing heaven in spite of their unrepentant hearts. But this idea of Mary as intercessor and sanctuary for those who have turned from God is rooted in genuine love, not the counterfeit variety peddled by our culture that shies away from pain or growth in favor of pleasure and constant affirmation. She longs not just for our salvation, a hollow concept if it could somehow be divorced from repentance, but for our deep conversion and sanctification. She will sneak nobody into heaven, but will pray unceasingly that their complacency turn to sorrow, that they might receive the mercy offered them by pierced hands.
Mary's love of her children springs from her love of her Son. It's his pain on Calvary that empowers her to gather her sinful children under her mantle. It's his precious blood that offers mercy. When Mary stands as refuge of sinners, it's not to protect them from God's justice but to present them for his mercy. No wholly hardened heart can appeal to the Mother of Mercy, no unrepentant sinner expect to slide through a Marian loophole. Instead, those who approach the Mother of God find their hard hearts softened through her intercession. In turning to her, they're brought to the one they crucified, strengthened to repent and beg his mercy, with their Mother and his standing at their side.
I hope that those men who defiled their priesthood and the innocence of God's children are ashamed. I hope they weep for their sins. I hope that justice is served in this world and that they are stripped of the clerical state and remanded to a life of penance, hopefully in prison.
But above all I pray that they repent, that they kneel at the feet of him whom they crucified and beg forgiveness. If, in their shame, they can't bring themselves to approach the one they wronged, I pray that his Mother strengthens them to seek forgiveness. If, in their sin, they can't see the wickedness of their crimes, I pray that they see their weeping Mother and are convicted by her pain. I pray that Mary, Refuge of Sinners, will gather every guilty and complicit person among us (whether or not our sin is the sort that would make headlines) and bring us to the throne of God, to receive the mercy that none of us deserve.
Mary, Mother of Mercy and Refuge of Sinners, pray for us. Kyrie Eleison.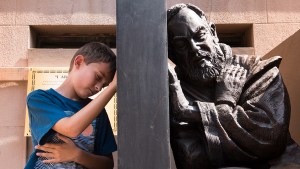 Read more:
Exclusive Photos: Padre Pio brings Christ's mercy to NYC