It's not just monks and nuns who need it -- we need those quiet moments, too!
What can God do in your life with one Bible verse a day?
Subscribe to Aleteia's new service and bring Scripture into your morning:
Just one verse each day.
Click to bring God's word to your inbox
In the year 1030, a young priest named Bruno found himself overwhelmed. He wanted to spend time alone in silence, but instead the demands of his job had taken over his life. So Bruno did something extreme, leaving behind his comfortable life for a remote wilderness far away from the noise. He had a few friends who follow him and lived nearby, but there was a strict rule – no talking. 
Bruno desired silence and was willing to go to any length to find it. Why? Well, he didn't talk very much so we don't have a lot of quotes to choose from to know, but he did write that "Only those who have experienced the solitude and the silence of the wilderness can know the benefit and divine joy they bring to those who love them." After his death, Bruno's friends all remarked that in place of words, his mouth was always smiling. Silence made Bruno a happy man.
There's a documentary, Into Great Silence, filmed in 2006 about the religious order that Bruno began, called the Carthusians. The filmmaker was only able to obtain permission to film after the monks gave it some serious thought. A short 18 years of silent contemplation later, they approved the project. I've watched it several times now. It's three hours long and almost no words are spoken. It's beautiful and joyful and inspiring. It's also impossible for me to watch in one sitting because I'm incapable of sitting still and focusing for that long. The noise of life has made us too distracted, too squirmy, and lacking in the ability for sustained introspection.
Interior silence isn't literally about a lack of audible sound. After all, the sound of crickets chirping at night, waves spreading themselves out on the sand, or monks chanting their prayers aren't the absence of sound — all of them may help create an inner calm and peace that allows us to quiet down our thoughts.
There are many benefits to seeking silence, even if it's only half an hour each morning or getting away for a spiritual retreat for a weekend. It's a habit that improves memory, relieves stress, helps us sleep better, and makes us more emotionally sensitive.
Moments of silence offer the opportunity to get back in touch with ourselves and, like Bruno, take joy in the pure fact of our existence. We don't all need to disappear into the wilderness and never speak again.
Here are a few suggestions for protecting moments of silence in a noisy world …
Ritualize everyday activities
There's a ritual I go through every morning as I make my coffee. First I put the water in the tea kettle, as it's heating up I carefully measure out and grind the beans, then I inhale the aroma of the fresh grounds. Once the tea kettle whistles I put it all together in my French press and sit on the back patio. My process is more complex than driving through a coffee shop on the way to work, but it's worth it because it slows me down. I'm not necessarily thinking about anything while I go through my ritual, but the ritual itself calms my mind. Most of us have rituals of some sort like morning prayers, morning Mass, doing the crossword puzzle, or taking the dog for a walk. Guard these moments carefully. They're valuable.
Get up earlier than everyone else
This one is particularly helpful for parents. The mothers I asked all said the same thing – wake up before the kids! Carmen, for instance, says she makes a habit of "rising early for prayer time." Jen phrases it amusingly, saying it's like "pretending the children don't exist for a few minutes every morning." It isn't that the kids are horrible, it's simply that parents need a bit of time away from the job every now and then. Later in the day, too, it's possible to practice cultivating a bit of silence with the kids.
Build in a buffer to your commute
With all the traffic and rushing to be there on time, commuting is stressful. But what if we all left 15 minutes earlier? My friend Bess says this is her habit: "This way I'm not distracted by worrying." Suddenly, the commute transforms from a chore into a blessed period of quiet time.
No computers and phone in the morning
Because we're all addicted to our phones, our first instinct is to reach for it first thing in the morning. Phones and social media, however, are the very definition of white noise. As soon as we start with the electronics, any chance for silence is destroyed. There's always time later, so wait a bit before picking up the phone, firing up the laptop, or turning on the television.
Do something with your hands
Physical activity is great for calming the mind, and cultivating silence doesn't mean sitting entirely still. For instance, when I go for a run the whole world goes quiet and it becomes a contemplative experience. Other people love gardening, sewing, or going for a walk. I have a friend who goes out and chops wood, and another friend who takes time caring for the chickens. Especially when the day has been stressful, these moments of serene activity help us reset our minds and find time for silence.
St. Bruno's feast day is October 6. Let's honor his life by cultivating moments of silent joy in our own lives this week.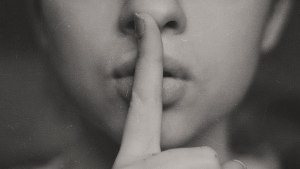 Read more:
How silence makes life less superficial