Instead, change the way you think about living life.
What can God do in your life with one Bible verse a day?
Subscribe to Aleteia's new service and bring Scripture into your morning:
Just one verse each day.
Click to bring God's word to your inbox
I recently discovered an interesting phenomenon with my kids. When it comes time to clean the house, if I say something like, "Charlotte, I struggle with organizing so can you be in charge of picking up and organizing your room? You're so good at it" or "Liam, I can't ever get the mirrors as clean as you do — can you be in charge of making them shine?" my kids are suddenly eager to clean. They get right on it, and they do an amazing job because they take pride in the fact that I praised their ability and put them "in charge" of something. But they also take pride in the fact that they're helping me.
This is a stark contrast to the times when I say, "Charlotte, I need you to clean your room before gymnastics" or "Liam, no video games until you clean the mirrors." Those days, it's nothing but weeping, wailing, gnashing of teeth. I have to drag them through the absolute most perfunctory chores when I frame it as something they "have" to do instead of something they "get" to do. And the thing is, when I don't ask them for their help they don't feel like they're helping. As it turns out, my kids genuinely want to help. They just don't want to be forced to do chores.
Guess what kind of people are a lot like children? Adults. The way we approach life, whether it's work, parenting, exercising, or even eating, has a significant impact on our ability to make healthy choices sustainable in the long term, according to Elite Daily.
A healthy lifestyle is one that makes you feel genuinely good about yourself, and according to a new study, learning how to change your mindset about healthy living can have a huge impact on actually sticking to your goals. The study, which has been published in the scientific journal Proceedings of the National Academy of Sciences of the United States of America, discovered that a simple mindset shift could have a huge impact on how you approach a healthy lifestyle… Researchers found that self-transcendent exercises, such as thinking about people you love or connecting with a higher power, elicited more activity in the brain regions that controlled reward and positive responses, and caused people to be more active in the month-long test period that followed these exercises. In contrast, the participants who were told to follow basic health tips like "make a habit of walking up and down the stairs whenever you can" were significantly less active than the mindset-focused people in the month that followed.
"Self-transcendence" is a pretty woo term to describe basic Christian virtues like diligence, temperance, charity, and kindness. And "connecting with a higher power" has a much less cumbersome name — prayer.
When we approach life with a positive mindset, doing the right thing no longer feels like such a drag — it feels like an act of kindness to ourselves and others. It transforms healthy eating from trying not to eat bad food into choosing food that will nourish our bodies. It transforms housework from mundane tasks we hate doing into opportunities to care for our families in a tangible way. It transforms exercise from torture into a celebration of our bodies and everything they are capable of.
And when we unite that positive mindset with prayer, it allows us to enjoy these things we used to dread, because we are constantly aware of the gifts they are. Prayer helps cultivate gratitude for everything we've been given — like healthy food to eat, machines that wash our laundry, children to wash that laundry for, and bodies that are capable of adapting to the varied aspects of our lives.
So instead of trying to force yourself to "live healthy," change your mindset. Try being grateful for that opportunity instead. I mean if it works for my kids, it'll work for anyone. Promise.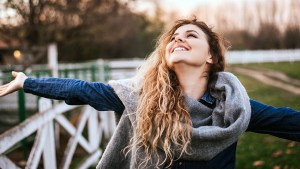 Read more:
The benefits of practicing everyday gratitude