Was he a fierce warrior or something?
St. Paul, armed and ready with a sword, is one of the most common statues or paintings seen in Catholic Churches around the world. It is a interesting depiction, as it may appear at first glance that St. Paul was some sort of great warrior in battle.
He was a warrior, but not in any physical battles.
St. Paul is frequently depicted with a sword for two primary reasons. The first reason is because St. Paul is well-known for his epistle to the Ephesians, where he famously describes the "armor of God." He uses the armor that was commonly worn by a Roman Soldier to describe a spiritual armor that prepares a Christian to "stand against the wiles of the devil. For we are not contending against flesh and blood, but against the principalities, against the powers, against the world rulers of this present darkness, against the spiritual hosts of wickedness in the heavenly places" (Ephesians 6:11-12).
A few verse later St. Paul writes, "And take the … sword of the Spirit, which is the word of God" (Ephesians 6:17).
The author of the letter to the Hebrews, who is traditionally believed to be St. Paul, uses a similar analogy and further explains why the word of God is connected to a sword, "For the word of God is living and active, sharper than any two-edged sword, piercing to the division of soul and spirit, of joints and marrow, and discerning the thoughts and intentions of the heart" (Hebrews 4:12).
For this reason St. Paul is frequently depicted with a sword, while also holding a book, the "word of God," making an artistic connection to these scripture passages.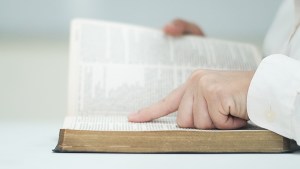 Read more:
Check out this Bible translation timeline
The second reason why St. Paul often carries a sword is because of a long-standing tradition of depicting martyr saints with the instrument of their death. As St. Paul was a Roman citizen, he was not eligible to be crucified. Instead, St. Paul was decapitated with a sword outside of the walls of Rome.
So while St. Paul may not have been a fierce warrior, he was a "soldier of God," fighting valiantly to spread the Kingdom of God on earth.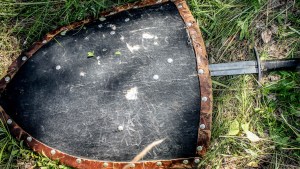 Read more:
Fighting a spiritual battle? Don't forget to put on the armor of God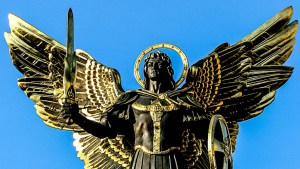 Read more:
Exorcism prayer of St. Michael the Archangel