Some of my best parenting moments are when I say "I can't do this," and even "Fine. Go watch TV."
We parents are perfectly well aware, thank you very much, of how much is at stake when it comes to how we raise our children. Trying to raise children who are healthy, well adjusted, resilient, loving, faithful, (the list goes on for miles …) is going to take every ounce of energy we've got for the next umpteen years. And we've accepted that. Parenting takes serious dedication. My attitude towards my family is usually: "Bring it on!"
I've got so much fight in me, actually, that I keep forgetting that good parenting isn't always about fighting and sacrificing and wearing myself out — actually, some of my best parenting moments are when I say "I can't do this," and "I give up," and yes, even "Fine. Go watch TV."
I'm not even kidding. It sounds like a total cop-out, but it's not. It's about being realistic. It's about remembering that everyone in my house — including me, incidentally — is a human being with human limitations. It's shocking how easy it is to ignore that.
I can hear my past self now. She's spluttering, "Limitations? I don't have the luxury of limitations!"
Yeah, I wish. What I'm realizing now is that if I want to be a really excellent parent to the people I love most in the world, I need to be realistic about what I have to offer. I need to respect my own limitations, and not push myself past them.
So if everybody's melting down, and nobody has napped, and I'm hangry but really want to make homemade bread with my toddler — because, darnit, it's good for his motor skills and confidence, and it would look so cute on Facebook? A better choice is for me to go eat something full of carbs and let that toddler watch some TV. Trying to white-knuckle it through my original plan for the day is just not going to end well.
If my mental reserves are taxed to the breaking point because of a flare-up of anxiety, combined with a badly timed head cold? I can spend all day yelling at myself to try harder to be patient, but it might be a better choice to stop insisting that I do what I clearly can't do … and just take a little break. Lower my expectations. Swallow my pride.
I would have been so angry if I'd heard this advice when I was a new mother because it looks selfish. Motherhood is all about putting other people first, isn't it? And yes, it is. But putting others first doesn't always look like we think it should.
I'm putting my family first when I summon the humility to acknowledge my weakness.
I'm putting my family first when I take a hard look at what's realistic, and toss out my unreasonable expectations.
I'm putting my family first when I accept that the day may look like a failure to the outside world,  and I'm the only one who will know better.
I know that I need to work hard and grow, and not just settle for the easy way out. At the same time, trying to push through a situation by pure willpower, and refusing to compromise my ideal just because yes, it's technically possible that I might magically get it together enough to manifest the patience of a saint? Even if that works one time out of a hundred, that still leaves me and my family with 99 bad days.
So I'm absolutely going to keep on working to become better — just never at the expense of ignoring reality, and plowing ahead as though my current shortcomings don't exist.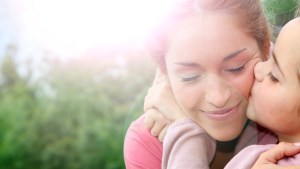 Read more:
Parenting news flash: God doesn't expect you to do this alone