This prayer is short and easy to recite, but can have a profound effect on a person's spiritual life.
What can God do in your life with one Bible verse a day?
Subscribe to Aleteia's new service and bring Scripture into your morning:
Just one verse each day.
Click to bring God's word to your inbox
Throughout the centuries, various saints have suggested praying single phrases over and over again. This type of careful repetition can allow the words to sink deep into our hearts, no longer remaining on the surface.
The most popular prayer in this category is the "Jesus Prayer," but there is another prayer that is similar in style and possess a profound power of transformation.
Read more:
Praying the Jesus Prayer: Mercy with every breath
The prayer is found in a 14th-century treatise called Scala Perfectionis, which was translated and presented in a book called Holy Wisdom written by Venerable Augustine Baker in the 17th century.
In it, there is narrated a story of a pilgrim who wants to travel to Jerusalem. The pilgrim meets a holy man who says to him, "begin thy journey in God's name, but be sure to go furnished with two necessary instruments, humility and charity, both which are contained in the forementioned speech, which must always be ready in thy mind: I am naught, I have naught, I desire but only one thing, and that is our Lord Jesus."
The holy man proceeds to explain to the pilgrim various trials he will have to undergo and in each case, he encourages him to recite the above phrase, sometimes altering it, such as, "I am naught,
I have naught, I care for naught in this world, and I desire naught but the love of Jesus."
It's an important phrase, similar to that of the "Jesus Prayer," and teaches a person to have a healthy dose of humility, recognizing our own place in this world.
The wise teacher concludes by saying, "remember that thy principal aim, and indeed only business, is to knit thy thoughts to the desire of Jesus—to strengthen this desire daily by prayer and other spiritual workings, to the end it may never go out of thy heart."
It's easy to lose sight of God in our busy world and to be worried about many things. This prayer can play a powerful role in our lives by transforming our hearts, reminding us to give everything to God, desiring only to be with him for all eternity.
Read more:
Pray this prayer by St. Therese to ask God for humility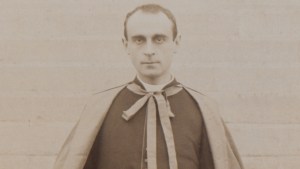 Read more:
Meet the man (with a great name) credited with the Litany of Humility